Freiburg Baroque Orchestra / 
Gottfried von der Goltz
Harmonia Mundi HMC90 2113/14
Over the years, we've come to expect outstanding performances from the Freiburg Baroque Orchestra and this issue certainly does not disappoint. The four Orchestral Suites are supremely life-affirming music, fully realised here with playing that emphasises rhythmic vitality and poise, as well as giving inspiring expression to Bach's wonderful melodic lines. There are some exceptional individual contributions: brilliant violin-playing in the Overture of the Third Suite, a beautifully matched trio of oboes and bassoon enlivening many moments in the First Suite and, in the Second Suite, Karl Kaiser's immaculate flute-playing, with spectacular, stylish embellishments to the repeated sections.
The tempi are often quite brisk but never excessively fast, and the orchestra's internal balance is especially good; in the two D major Suites, the trumpets uninhibitedly promote a festive atmosphere but are sensitive enough to allow other instruments to take the lead when their parts are more important. You may not agree with the Freiburgers' refusal to over-dot in the overtures but you'll have to agree that, through persuasive phrasing, they perform these sections entirely convincingly. Indeed, conviction shows on every track of the set. This is music-making to lift the spirits.
Duncan Druce 
Read the full Gramophone review 
Watch Gramophone critic Lindsay Kemp introduce the Award-winner below: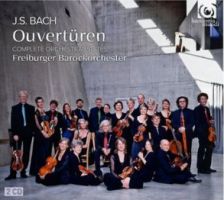 If you are a library, university or other organisation that would be interested in an institutional subscription to Gramophone please click here for further information.