Baroque Vocal (Recording of the Year)
Schütz Musicalische Exequien
Vox Luminis / Lionel Meunier
  Ricercar RIC311
Thankfully the art of dying was still taken very seriously in Baroque Germany, as Schütz's Musicalische Exequien from 1636 and Bach's Trauer Ode a century later attest. Yet it is the former masterpiece where, in the face of the ravaging Thirty Years War, ars moriendi is communicated afresh with such extraordinary devotional assurance.
These qualities are rendered with a delicious, ruminative prayerfulness and unforced rhetoric by Lionel Meunier's 
Vox Luminis. Listen to 'Ach wie elend ist unser Zeit' ('O how wretched is our time on earth') and you'll hear the kind of textural simplicity, intuitive pacing and gentle accentuation which evokes, with mesmerising authority, just how fervently the congregation for Prince Heinrich von Reuss's meticulously planned funeral must have trusted in the power of resurrection.
If this is not a vocal ensemble over-endowed with impressive individual turns, it delivers instead a profoundly focused, personal and grounded 'text' of corporate luminosity – and this goes, too, for four masterly funeral motets, including Das ist je gewisslich wahr, that remarkable gem dedicated to the memory of the other great German of the period, Johann Hermann Schein, confirming that Schütz's genius knows few bounds.
What strikes me principally about this wonderful disc is how 
Vox Luminis delight as much in the abstract brilliance of 
Schütz's melodic and harmonic invention as in the mere projection of words – which is why these performances deserve to reach audiences beyond early-music boffins and receive a broad mainstream listenership, like Brahms, for whom Schütz was a guiding star for his own Deutsches Requiem.
Jonathan Freeman-Attwood 
Read the full Gramophone review
Schütz's Musicalische Exequien featuring Vox Luminis was also named Recording of the Year. Watch founder Lionel Meunier's acceptance speech below: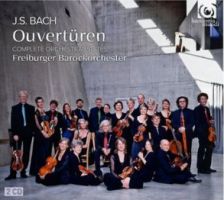 If you are a library, university or other organisation that would be interested in an institutional subscription to Gramophone please click here for further information.