Schumann Complete Works for Piano Trio
Christian Tetzlaff vn Tanja Tetzlaff vc Leif Ove Andsnes pf
EMI 094180-2
This was obviously a special disc when I first encountered it in 2011. It does for the piano trios what the Zehetmair Quartet had so triumphantly done for the Quartets Nos 1 and 3, their recording of which won a Gramophone Award in 2003.
For anyone whose notion of Schumann is still one of a downwards slope from youthful élan to tragic mental impairment, this is the gentlest of kicks in the teeth. Andsnes has already proved himself to be an artist sympathetic to Schumann's chamber music and in the Tetzlaff siblings he has the perfect partners. They imbue the more lyrical writing with tremendous affection and beauty of tone, and they also understand that Schumann's music is fragile: in insensitive hands his urgent rhythms can become incessant, his arching, wide-slung melodic lines merely ungainly. Here, instead, we find a springy buoyancy to the faster music that gives it a wonderful energy. They're true to the notes on the page but never dogmatic in the slightest. Add to this a bonus in the Op 88 Fantasiestücke and the Six Etudes in Canonic Form in a sympathetic arrangement by Theodor Kirchner, all captured in a beautifully balanced recording, and it's a deserving winner.
Harriet Smith
Read the full Gramophone review
Watch Gramophone critic Harriet Smith introduce the Award-winner below: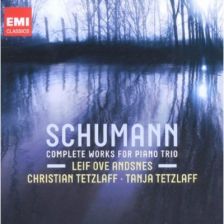 If you are a library, university or other organisation that would be interested in an institutional subscription to Gramophone please click here for further information.