Choir of Trinity College, Cambridge / 
Stephen Layton
Hyperion CDA67914
Even by the exalted standards of previous offerings from Stephen Layton and his gifted Trinity College undergraduates, this is an exceptionally fine release. Its rewarding contents span nearly five decades, from the exquisite anthem Salve regina that the 23-year-old Howells wrote in 1916 for Richard Terry's Westminster Cathedral Choir, via the double pillars of those resplendent settings of the Evening Canticles fashioned for Gloucester and St Paul's in 1946 and 1950 respectively, all the way up to 1964 and the motet Take him, earth, for cherishing, a sublime treatment of Prudentius's medieval Latin poem Hymnus circa exsequias defuncti, commissioned for a special service in memory of President Kennedy. Even more affecting is the Requiem of 1932: completed three years before the death of the composer's son, Michael (who succumbed to polio aged just nine), it contains material to which Howells was to return for his consolatory magnum opus, Hymnus Paradisi. Performances throughout are beyond criticism in their unruffled composure, 
keen sense of poetry and abundant communicative spirit. What's more, the sound – whether emanating from Lincoln Cathedral or the magical surroundings of Ely Cathedral's Lady Chapel – is gloriously true. A worthy winner indeed.
Andrew Achenbach
Read the full Gramophone review
Watch Gramophone critic Caroline Gill introduce the Award-winner below:
Watch Stephen Layton's acceptance speech below: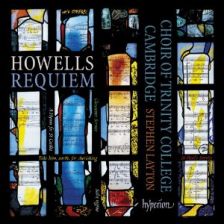 If you are a library, university or other organisation that would be interested in an institutional subscription to Gramophone please click here for further information.