Beethoven. Berg Violin Concertos
Isabelle Faust vn 
Orchestra Mozart / Claudio Abbado
Harmonia Mundi HMC90 2105
Working with Claudio Abbado, Isabelle Faust says, 
is like being given a key to the magic of music. 
It was he who wanted to record the Berg with her. 
It came first, as it does in the order here, and when the Beethoven Concerto suggested itself as partner to it, placing these two masterpieces in such close proximity 'was something quite new to me'.
Wise of her to defer to the great man's guidance, acknowledged as an inspiration throughout. Yet Isabelle Faust's contribution is as personable as one could wish, alive with her own intelligence and musical personality. She projects her role as soloist on an equal footing with the orchestra and excels particularly in the Berg Concerto, a protagonist who carries to perfection its narrative dimension and knows when to merge into the orchestral texture.
The Orchestra Mozart play beautifully and I would say these versions are models of artistic and human discipline, meticulously probing Berg's and Beethoven's intentions but conveying also a sense that such peaks of human achievement are something you assume from within, not take by force from without.

Stephen Plaistow
Read the full Gramophone review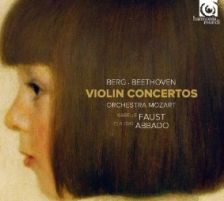 If you are a library, university or other organisation that would be interested in an institutional subscription to Gramophone please click here for further information.