Rautavaara Percussion Concerto. Cello Concerto No 2
Colin Currie perc Truls Mørk vc Helsinki PO / John Storgårds
Ondine ODE1178-2
Rautavaara's dozen-plus concertos have hitherto been the Cinderellas of his orchestral output, often appearing as fillers to recordings of the symphonies and choral works or in multi-composer collections where their impact has been diluted. The only one to have achieved wide international currency is Cantus arcticus, the evocative 'concerto for birds and orchestra', so Ondine's headlining of what are billed as the last of Rautavaara's concertos has finally placed them centre stage. And what a magnificent, highly contrasted double they make. The vibrant Percussion Concerto, Incantations (2008), delivered with coruscating virtuosity by Colin Currie, is a strongly drawn triptych, rhythmically exciting and superbly orchestrated. Truls Mørk's beautifully controlled performance of the valedictory Second Cello Concerto, Towards the Horizon (2008-09), is as remarkable, caressing out the subtleties of the variation-form structure in which the soloist rarely seems not to be playing! The support from the excellent Helsinki Philharmonic Orchestra under John Storgårds (who seems to go from strength to strength on the podium) and Ondine's sensational, vivid sound set the seal on a superb Contemporary Award-winner.
Guy Rickards
Read the full Gramophone review 
Watch Gramophone editor Martin Cullingford introduce the Award-winner below:

Watch Einojuhani Rautavaara and John Storgårds accept the Gramophone Award for best Contemporary recording below: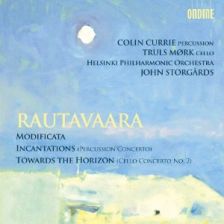 If you are a library, university or other organisation that would be interested in an institutional subscription to Gramophone please click here for further information.