Victoria Sacred Works
Ensemble Plus Ultra / Michael Noone
Archiv 477 9747AB10
This 10-disc set of the sacred music of Victoria was released to coincide with the 400th anniversary of his death in 1611 and, although not a complete survey of his work, is nevertheless the most considerable proportion of his output yet released together on disc.
One of the most enjoyable characteristics of Iberian choral music of this period is the askance perspective Victoria and his contemporaries had on the rules of polyphony that, by Palestrina's benchmark, were sacred and absolute: it is that variety and unpredictability that keeps this music engaging enough to support 10 discs and 90 pieces by the same composer in one place. But unless a choir embraces the music in that same spirit of insubordination, many of its rhythms, harmonies and audacious dissonances will pass by unnoticed. This is one of the great strengths of the Ensemble Plus Ultra, who embrace the performances of all these pieces with an enthusiastic sense of anything being possible. Ultimately, though, it is just deeply human and emotional music that they perform not only with great tenderness but so simply that one is struck every time – as if for the first time – by its crystalline, uncomplicated beauty.
Caroline Gill
Read the full Gramophone review
Watch Gramophone critic Caroline Gill introduce the Award-winner below: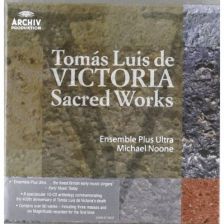 If you are a library, university or other organisation that would be interested in an institutional subscription to Gramophone please click here for further information.