Chopin Etudes, Opp 10 & 25 (r1960)
Maurizio Pollini pf
Testament SBT1473
This is the recording of Chopin's two sets of Etudes that the young Maurizio Pollini made in 1960, shortly after his success at the sixth International Chopin Competition in Warsaw that year. For some reason Pollini never sanctioned its release, a decision that was to be just the first in a series of (for his indulgent record label) exasperating and (in retrospect) almost comical behaviours that eventually led to his departure from EMI. That company eventually relinquished him before his contract was up, deeming that his career was going nowhere; of course, with DG, he went on to make a string of classics over the past four decades, including a remake of this repertoire.
It's hard to surmise what led to Pollini's dislike of these sessions. Some may prefer the grander DG recording but these performances flow seemingly effortlessly, with his famous technical acumen a given and an uncanny insight into the many moods Chopin explores. Bryce Morrison invoked Pollini's 'early superfine brilliance, his aristocratic musicianship, his patrician ideal' in this music, making it all the more puzzling why the highly strung teenage pianist should have set his face against the disc's release. It's appropriate in the great man's 70th birthday year that these early thoughts on this wondrous music are at last revealed to the pianophile world.
David Threasher
Read the full Gramophone review
Watch Gramophone critic Jeremy Nicholas introduce the Award-winner below: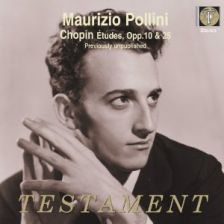 If you are a library, university or other organisation that would be interested in an institutional subscription to Gramophone please click here for further information.