Naïve
The name may imply a certain amateur, let's-make-it-up-as-we-go-along approach but there's nothing at all 
naive about Naïve: this is a label with real personality 
and a palpable sense of knowing where it's going.
It's hard to say what's the most striking feature of our new Label 
of the Year but immediate impact is provided by the stunning packaging, where superb, artistic photography and an often 
wry sense of humour ensure that, even before you've heard a note of music, your imagination is engaged. And the artist roster – what a line-up of musicians, each of whom has something to say and invariably in a way that is just a little bit different! Take the Moldovan violinist Patricia Kopatchinskaja; here is a player who doesn't seem to understand the concept of 'playing it safe'. 
Her philosophy seems to be 'this music speaks to me in a particular way and I'm going to react to it how I feel, not how tradition dictates. And if you don't like it, sorry!' And of course it works.
Naïve's singer stable, too, is magnificent, embracing Sandrine Piau, Marie-Nicole Lemieux, Sara Mingardo and, the most recent signing, Anne Sofie von Otter – each one a unique talent. Naïve's matching of repertoire with artist, too, is as sure as it is imaginative.The Naïve roster is a rich one, with Marc Minkowski and 
his Musiciens du Louvre offering a new slant on many 'core' works, such as Bach's B minor Mass or the complete Schubert symphonies. The pianist Bertrand Chamayou celebrated Liszt Year in 2011 with 
a magnificent traversal of Liszt's Années de pèlerinage that drew adulation from all quarters, Gramophone very much included. Another sure-fire success is that magnificent choral group Accentus, honed into an ensemble of considerable virtuosity by Laurence Equilbey – and Accentus's ambition when it comes to exploring repertoire is to be applauded.
At the heart of the Naïve catalogue is the Vivaldi Edition, a project that is fast becoming one of the wonders of recorded music, and this year's addition of the opera Teuzzone found Jordi Savall presiding with his characteristic flair. (And not to forget the wonderful disc 
of bassoon concertos that vied for an Award.)
And so we take our hats off to Didier Martin and his superb team for a great year of magnificent discs. Long may Naïve continue 
to add lustre, not only to the French record scene but to the world 
of classical music in general.
James Jolly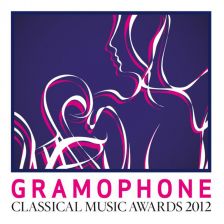 If you are a library, university or other organisation that would be interested in an institutional subscription to Gramophone please click here for further information.