Claudio Abbado, conductor
Daniel Harding pays tribute to fellow conductor Claudio Abbado
I have known Claudio for 20 years. I'm lucky because I've heard him conduct so often – Pelléas in London, Wozzeck in Salzburg, Mahler's Sixth with the Berlin Phil…Claudio was the reason 
I wanted to be a conductor. For me, he's the biggest living inspiration; if I could have anyone's natural gift, I would have his.
Claudio doesn't like talking about music – he's too good at doing it. The classic conversation with him goes something like this: 'Mendelssohn? Ah yes, Mendelssohn – beautiful music…' And 
that's it. He goes off into a dream and remembers how lovely it is.  
But the whole limp, vague impression he gives is such an act. When he starts to make music, he can create the most devastating tension. He can look so floppy and relaxed and yet bring something to the most astonishing, feverish level.
One of the first times I saw him rehearsing – Mahler's Fourth with the Berlin Phil – Claudio looked completely as if he had no interest in what was going on. And then the concert was completely astonishing.What he does in rehearsals is make sure that people in the orchestra know who they should be listening to. It's like the Vienna Phil – in rehearsals, the orchestra collect information but their attention is elsewhere. For the performance, it comes back at you tenfold.
I've talked to people who played with Kleiber and apparently his conducting was so compelling that the musicians were like marionettes. Claudio is very different. He gets his own way, but I've only heard him raise his voice three or four times. It's something that Karajan was a master at, too – this thing of following and at the same time leading. He gives musicians the space to play – he can nudge 
the tiniest things without it feeling like he's strangling anyone. Claudio was never going to be the guy who said, 'Now I'm grand and can do what I want, so I'm going to play the same five pieces over and over again.' If you listen to the old recordings of Mozart with the LSO and then the same repertoire 30 years later with Orchestra Mozart, it's completely different. He's never pretended to be a period-instrument expert but he's always wanted to learn from different ideas and adapt. It's the same with his approach to new music – he can then return to familiar pieces and look at them afresh.
When Claudio founded the European Union and Gustav Mahler Youth Orchestras it was a win-win situation – he is incredibly patient with young people but at the same time he gets to make music with the best young musicians eating out of his hand. It's astonishing how many of today's musicians have come through his youth orchestras. In a way, his vision has left an imprint on every orchestra in Europe.
Visit iTunes.com/gramawards for a selection of Claudio Abbado's greatest recordings, 
as selected by Gramophone, and now available at a special celebratory price. The offer is available until November 30.
(photo: Lelli & Masotti/Alinari/Lebrecht)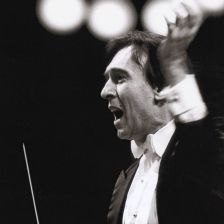 If you are a library, university or other organisation that would be interested in an institutional subscription to Gramophone please click here for further information.