Martinů Symphonies Nos 1-6
BBC Symphony Orchestra / Jiři Bĕlohlávek
Onyx ONYX4061
Some other reviews of this set have paralleled the grace and elegance of Jiři Bělohlávek's conducting with Martinů's music in these works. I could not agree less. The six symphonies of Martinů, like the contemporary late works of Béla Bartók, are the war pieces of an artist in a state of pain and exile that is both personal and political. Their lyrical moments, perhaps, can be graceful and elegant although one suspects, as in the tricky (and, in some aspects, most modern) No 6, that this relative repose is either deliberately cynical or a mocking quotation of other composers who can afford to be at rest at such a time in the world's affairs. That pain and stress are clearly, and superbly, realised here.
Czech music, Martinů especially (remember also the performances of Julietta and The Epic of Gilgamesh), has naturally been a speciality of Bělohlávek's BBC Symphony Orchestra tenure. The orchestra's playing in the six 2009-10 London Barbican concerts excerpted here shows a special and alert assimilation of an idiom that is just as tricky as the more 'contemporary' repertoire the players have to master. It's also apt that it is with this ensemble that Bělohlávek finally completes a cycle (after starts on Chandos and Supraphon with the Czech Philharmonic) of works so obviously dear to him.
Mike Ashman
Read the full Gramophone review
Watch Gramophone critic Rob Cowan introduce the Award-winner below:
Watch conductor Jiři Bĕlohlávek accept the Orchestral Award below: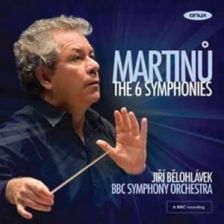 If you are a library, university or other organisation that would be interested in an institutional subscription to Gramophone please click here for further information.