'Arias for Guadagni'
Iestyn Davies counterten Arcangelo / Jonathan Cohen
Hyperion CDA67924
Horace Walpole named a racehorse after him, David Garrick gave him acting lessons and he was Gluck's first Orfeo. But it has taken surprisingly long for someone to produce an intelligently chosen and stylishly performed recital exploring the career of the castrato Cosimo Gaetano Guadagni (1728-92). Reputedly a 'wild and careless singer' when he first came to London, his untapped potential was soon talent-scouted by Handel, who nurtured the castrato in the early 1750s. Heroic male roles in Theodora and The Choice of Hercules were both written for him; the finest arias from each are performed sublimely by Iestyn Davies, who also includes vividly contrasting arias the great castrato sang in revivals of Saul and Belshazzar (these also provide the impeccable Arcangelo with opportunities to show off their harpist and trumpeters respectively). The most enduring recital discs take listeners on a journey and the compelling chronological narrative here shows how styles changed from late-Baroque Handel to proto-Classical Gluck in the space of only a decade, with the gaps in between filled by the fruits of Davies's personal research in collaboration with scholar Patricia Howard: we hear intriguing arias by Hasse, Arne, JC Smith and even Guadagni himself. Played sweetly and sung eloquently – a worthy winner!
David Vickers
Read the full Gramophone review
Watch Gramophone critic David Vickers introduce the Award-winner below:
Watch Recital Award-winner Iestyn Davies's acceptance speech below: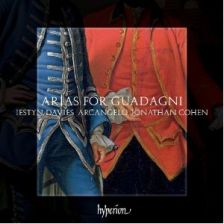 If you are a library, university or other organisation that would be interested in an institutional subscription to Gramophone please click here for further information.