'Songs of War'
Simon Keenlyside bar Malcolm Martineau pf
Sony Classical 88697 94424-2
Reactions to this disc's concept and programme – as well as the sepia soldier on the cover – can be predicted: it's an important disc, no doubt, but a bitter pill. Great singing, however, is never a bitter experience, especially in a recital selected and sequenced with such care, and with Simon Keenlyside drawing on all he knows from singing opera (the heartier side of his baritone conveying patriotic determination) and from Lieder (with intimate utterances projecting the personal cost of war). 
The booklet-notes introduce the 29 songs by Butterworth, Finzi, Ireland, Vaughan Williams, Kurt Weill and others by pointing out that war celebrates life as well as confronting death. But in 'An Incident' from Ned Rorem's cycle War Scenes, Keenlyside isn't afraid to be confrontational, with the piano's atonal turbulence and semi-spoken vocal lines describing a soldier with brain matter oozing from his head. It sets a tone that dramatically reinvigorates the disc's more simple, understated  ballads, including familiar verses such 'When I was one and twenty' from A Shopshire Lad – all underscored by the disarmingly empathetic Keenlyside and pianist Malcolm Martineau. A peak achievement for both. 
David Patrick Stearns
Read the full Gramophone review
Watch Gramophone critic Richard Lawrence introduce the Award-winner below:
Watch Simon Keenlyside accept the Solo Vocal Award below: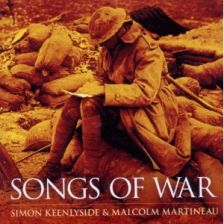 If you are a library, university or other organisation that would be interested in an institutional subscription to Gramophone please click here for further information.