Václav Talich - Live 1939
Smetana Má vlast Dvorák Slavonic Dances
Czech Philharmonic Orchestra / Václav Talich
Supraphon
On March 15, 1939, Hitler made a triumphal entry into Prague. The region had become a German protectorate but seething beneath the surface was the burning presence of Czech patriotism. Less than three months later, in early June, the great Czech conductor Václav Talich was at the city's National Theatre leading an augmented Czech Philharmonic for a fiery performance of Smetana's Má vlast, or 'My Fatherland', six dramatic tone-poems about the nation's soul, history and countryside. Talich had already recorded the cycle on 78s and was to re-record it on two further occasions; but this live performance is something else again, an impassioned affirmation not only of the music but of a people tragically caught in the throes of a despotic occupation. Each performance is tailed by a thunderous volley of applause but come the finale, where the two main themes combine in defiant counterpoint, the packed hall's response suggests the thrill of an Olympic victory. And that's not all: suddenly, after roughly a minute's worth of ecstatic applause, the entire audience spontaneously breaks into the Czech national anthem and the full import of what we have just heard registers. There is nothing else quite like it in the entire realm of recorded music and the Dvorák Slavonic Dances, Op 72, from a concert given just a week or so later at the National Theatre, press all the same buttons.
Rob Cowan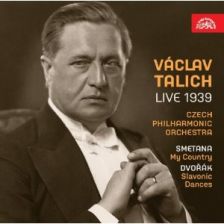 If you are a library, university or other organisation that would be interested in an institutional subscription to Gramophone please click here for further information.