Murray Perahia
A new prize, introduced this year, celebrates the 
career one of today's most respected musicians
'He's a little genius' – a BBC colleague in conversation with me on returning from jury service at the 
Leeds International Piano Competition in 1972. I remember hearing Murray Perahia for the first time and what he was playing: Mendelssohn's Sonata in E major, Op 6. From the word go, everyone recognised his exceptional sensibility and the finish and lyrical naturalness of his playing, but the extent of his development was not foreseen. Excellence in Mozart might have been predicted: the set of the concertos he began to make in the late 1970s with the English Chamber Orchestra, playing and directing, has not been surpassed as a version on modern instruments. But in the 1980s and '90s, largely thanks to advice from and a friendship with Horowitz, his playing acquired the command of a larger scale, with more sharply defined declamation and more room in the frame for the music to breathe. This informed wonderful recordings of Bach (the English Suites, Goldberg Variations, the concertos and partitas), Handel suites and Scarlatti too, as well as Beethoven and later composers. Chopin came to the fore after Bach, as if in natural sequence, with the Ballades, notably, and then the most distinguished of all modern discs of the Etudes. There has been chamber music and accompanying singers, Mozart and Schubert duets with Radu Lupu, the Chopin and Mendelssohn concertos – too much to itemise. There was conducting, additionally, after 
a hand/thumb injury threatened to terminate his playing career. 
To everything he has touched, Murray Perahia has brought distinction and a musical ease that has seemed effortless. I've no doubt it wasn't! It is given to few artists to renew our experience of 
a wide range of great music as vividly as he has done, while appearing to impose themselves on it so lightly.
Stephen Plaistow
To celebrate Murray Perahia's Piano Award and 
his 40 years recording for CBS/Sony Classical, 
we've gathered together all his reviews published in Gramophone, along with a selection of his interviews. Read this free exclusive digital magazine at exacteditions.com/gramophone/murrayperahia.
(photo: Felix Broede/IMG Artists)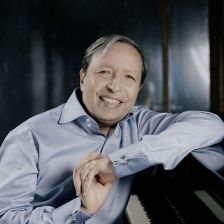 If you are a library, university or other organisation that would be interested in an institutional subscription to Gramophone please click here for further information.