Sponsored by Mrs Joan Jones
Alison Balsom, trumpeter
Trumpeter Alison Balsom has had a busy summer. After a US tour and an appearance on Sky Arts' South Bank Show, she made her acting debut at the Globe Theatre in Samuel Adamson's wonderfully vibrant and heartfelt portrait of London in the time of Purcell, Gabriel. She then nipped off to Suffolk to give rock fans at the Latitude Festival a healthy dose of classical trumpet. Then, to crown things, her record company (Warner Classics, né EMI) has just released a compilation, 'The Sound of Alison Balsom', a generous showcase that focuses on music of the Baroque (Purcell, JS Bach, Torelli, Handel, Albinoni and Marcello) played on both period and modern instruments. Just to hear her transform the aria 'Al lampo dell armi' (Giulio Cesare) from a vocal showpiece to a trumpet solo – but one in which she truly makes her instrument sing – is to be reminded that Alison Balsom is an exceptional musician as well as a virtuoso performer.
Alison Balsom describes hearing Håkan Hardenberger when she was nine years old as a Damascus moment and one that convinced this evidently determined young girl that the trumpet was going to be her life. And she clearly never looked back: she studied at the Guildhall School of Music and Drama, the Royal Scottish Academy of Music and Drama and the Conservatoire de Paris. And – to take things back to where they started – she also studied with Hardenberger. (Now with the admirable motive of giving something back to her alma mater, she is a visiting professor of trumpet at the Guildhall School of Music and Drama – and if you've ever seen her give a masterclass you'll immediately agree that she's a natural-born teacher.)
The trumpet is one of those rare instruments whose repertoire provides riches at its extremities: in music of the Baroque and Classical periods and then virtually nothing (apart from orchestral parts) until the 20th century. But that has never stopped its exponents, and Balsom is one of those players whose mission it is to enrich the trumpet's repertoire in the 21st century. Given her enthusiastic fan‑base, it must be a gift to any composer to receive a call suggesting a commission for one of the most popular musicians of our time.
James Jolly
(Photo: Hugh Maker / Warner Classics)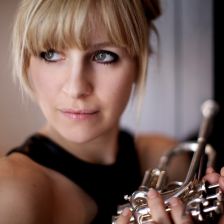 If you are a library, university or other organisation that would be interested in an institutional subscription to Gramophone please click here for further information.