Special Achievement Award
If you possess a recording by Natalie Dessay, Philippe Jaroussky, Rolando Villazón, the Capuçon brothers, Nicholas Angelich, Max Emanuel ‪Cenčić‬, Joyce DiDonato, Valery Sokolov or Diana Damrau then you'll have engaged with the A&R genius of the French-born Alain Lanceron, the guiding spirit behind Virgin Classics since 1996. Prior to that he'd been director of the classical department of Pathé Marconi-EMI since 1978 during which time he enriched the French EMI catalogue magnificently, with French music in particular. Just think of all those discs with Michel Plasson from Toulouse (music by Magnard, Guy Ropartz, Massenet, Chabrier, Offenbach, Gounod, Franck, Chausson and many others). In all, he has presided over 
600 recordings, some 200 of which are of music from France.
Lanceron is one of those rare people who not only have extremely good musical taste and the ability to spot artists with huge potential 
(as the list above reveals), but also a winning commercial touch: his 'crossover' projects, always imaginative and characterised by great style, have been hugely successful. His 'Mozart the Egyptian' of 
1997, in which Hugues de Courson blended the music of Mozart 
with the sounds of contemporary Egypt, sold in vast quantities and, more recently, the projects from Christina Pluhar and L'Arpeggiata,
 'Los Pájaros perdidos' and 'Mediterraneo', captured the musical public's imagination, helping the albums to rise effortlessly to 
the top of various charts.
When Lanceron inherited the Virgin Classics label, he freely admits that music of the Baroque period (and earlier) was by no means within his area of expertise, but he brought his acute A&R flair to the job 
and has created a label that has nurtured some of the stars of today: Jaroussky is the perfect example of a singer whose musical curiosity 
has been harnessed and allowed to bloom – with impressive artistic results (and doing no harm to the bottom line along the way).
Alain Lanceron loves music and it shows. Not for him focus groups or statistical analyses of buying habits: he chooses his artists for their talent, their ability to develop (and he allows them to develop) and their almost-guaranteed appeal to music lovers the world over.
James Jolly
(photo: J.B.;MILLOT-QOBUZ.com)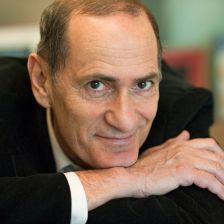 If you are a library, university or other organisation that would be interested in an institutional subscription to Gramophone please click here for further information.