Jan Lisiecki, pianist
The 18-year-old Polish-Canadian pianist Jan Lisiecki made his debut this summer at the BBC Proms in Schumann's Piano Concerto; his partners were Rome's Santa Cecilia Orchestra and Sir Antonio Pappano. Sitting behind me was one of the recording industry's more illustrious former A&R heads; and, as the first movement drew to a close, he leaned forwards: 'How great to hear a youngster with that amount of personality.' 
And he was right. Lisiecki may still be in his teens but his musical wisdom belies his youth.
I first encountered Lisiecki in Cannes at Midem, the record industry's annual trade fair, in the January of Chopin Year, 2010. As a confident 14-year-old, Lisiecki played Chopin's First Piano Concerto with a blend of poetry and fantasy that won him many new fans that evening. And Chopin remains very close to his heart. To speak to, he sounds 100 per cent Canadian, but Lisiecki's Polish roots clearly go deep and Chopin's music draws from him a very special, and original, response. Bryce Morrison reviews Lisiecki's new Chopin disc in the next issue of Gramophone and reacts to his pianism with a question: 'When, if ever, have you heard the Chopin Études played as pure music, given as naturally as breathing yet recreated from an entirely novel perspective?'
Lisiecki's DG debut – two of Mozart's piano concertos – found him in the company of the Bavarian Radio Symphony Orchestra and that fine pianist-conductor Christian Zacharias. But this was certainly not a case of an experienced Mozartian leading the way – Lisiecki is definitely his own man, with strong views about the music. As David Threasher said in his review in September last year, 'Throughout, Lisiecki's touch is exquisitely graded and his own cadenza for 
K467's first movement demonstrates his immersion in the style.'
In presenting this superb young player with our Young Artist of the Year Award, we're turning the spotlight on a musician with a golden future ahead of him. He's not in need of a record contract but we hope that his talent is allowed to unfold naturally and true to his musical instincts; his is a gift too rare to be squandered.
James Jolly
Jan Lisiecki performing at the 2013 Gramophone Awards:
(photo: Mathias Bothor / DG)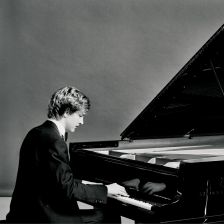 If you are a library, university or other organisation that would be interested in an institutional subscription to Gramophone please click here for further information.