Paavo Järvi
Paavo Järvi – who saw off strong competition from the other nine nominated musicians in this public vote – has established himself as one of the most versatile and inspiring conductors of his generation, and with a remarkably broad repertoire.
Now in his fifth season as Music Director of the Orchestre de Paris, as Music Director of the Deutsche Kammerphilharmonie Bremen since 2004, as Conductor Laureate of the Frankfurt Radio Symphony Orchestra, as Music Director Laureate of the Cincinnati Symphony Orchestra and as Chief Conductor-designate of the NHK Symphony Orchestra (which he takes over next season), Järvi's music-making has a truly international dimension, and his guest-conducting schedule takes him around the globe many times each year.
What makes Järvi one of the most interesting conductors of today is the freshness of his music-making and his unhackneyed approach to central repertoire, an approach that has earned him a loyal following. 
Key Recordings
Mozart. Vieuxtemps
 

Violin Concertos

Hilary Hahn vn Deutsche Kammerphilharmonie / Paavo Järvi (DG)

'Paavo Järvi and the Deutsche Kammerphilharmonie provide wonderful accompaniments for Hilary Hahn – always finely balanced and expressive, and, in the Vieuxtemps, providing the necessary elements of drama and emotional colour...' Read the review
Shostakovich Symphony No 7 
Russian National Orchestra / Paavo Järvi (Pentatone)
'If a conductor and orchestra can get the opening right (and it's amazing how many sacrifice momentum to grandeur) then the chances are that the rest of this momentous piece will fall into place. Paavo Järvi and the Russian National Orchestra do just that...' Read the review
Shostakovich
 

Cantatas

Soloists; Estonian Concert Choir and National SO / Paavo Järvi (Erato) 

'A rarer bird, however, is The Sun Shines Over Our Motherland, composed in 1952 for the 19th Congress of the Communist Party. Indefensible in almost any aesthetic terms you care to mention, this is performed here with such gusto that the assumption Shostakovich was composing with his fingers crossed seems not entirely safe...' Read the review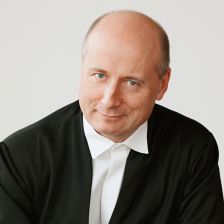 Paavo Järvi (photo: Julia Bayer)
If you are a library, university or other organisation that would be interested in an institutional subscription to Gramophone please click here for further information.