R Strauss Elektra
Soloists; Orchestre de Paris / Esa-Pekka Salonen
Stage director Patrice Chéreau
Video director Stéphane Metge
(Bel Air Classique)
'Evelyn Herlitzius performs the role with a dramatic commitment that few singers – in any role – can match'
Discover Strauss's music
Top 10 Richard Strauss works The dramatic power and grandeur in the operas and tone-poems Strauss wrote from 1885-1910 has never been equalled.
Strauss's Also sprach Zarathustra – which recording is best? Strauss's tone-poem may have been hijacked by the movies but there's far more to the score than that famous sunrise, argues Philip Clark, as he seeks the finest recording
'A supreme melodist' – the life and legacy of Richard Strauss He was accused of being cold and unemotional, yet his music is anything but. Michael Kennedy – in his final Gramophone article – surveys the composer's legacy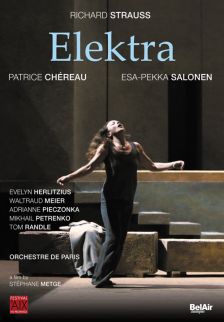 If you are a library, university or other organisation that would be interested in an institutional subscription to Gramophone please click here for further information.