Young Artist of the Year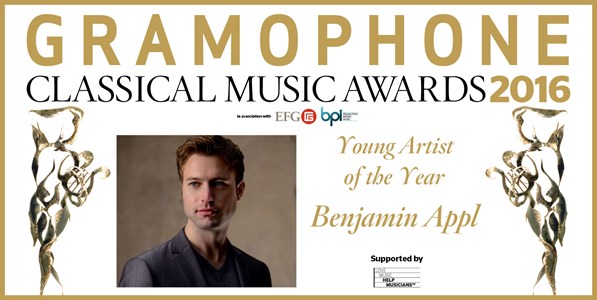 Benjamin Appl
For the past few years, British music-lovers have been aware of a major new singing talent in their midst, Benjamin Appl. Listeners to BBC Radio 3 have had a particularly privileged ring-side seat as this young German baritone was a New Generation Artist for the class of 2014-16; but he's an increasingly visible figure on the concert scene, and once seen – tall, blond, handsome and with a commanding stage presence – he's not easily forgotten. The last private pupil of Dietrich Fischer-Dieskau (there's a YouTube clip of the two baritones, nearly a half century apart in age, working on Lieder together), Appl has been named an ECHO Rising Star and, earlier this year, he signed a contract with Sony Classical, the first fruits of which will appear early next year.
Appl has appeared on a number of recordings, often alongside other singers – in the Mendelssohn song series with the pianist Malcolm Martineau for Champs Hill or in songs by Schumann alongside Ann Murray for Linn ('With clear, incisive diction, he characterises vividly in the narrative "Ballade des Harfners" and catches both the Lear-like weariness of soul and the accusatory bitterness of "Wer sich der Einsamkeit ergibt", wrote Richard Wigmore in March last year). But 2016 saw the appearance of his first two solo recordings.
Champs Hill's May release, entitled 'Stunden, Tage, Ewigkeiten', linked Schumann's song-cycle Dichterliebe with other songs to words by Heine. As Richard Fairman wrote, 'Appl has a baritone voice with its own character and a natural appreciation of the essentials of singing Lieder'. Barely a month passed before his next disc, a Wigmore Hall Live recording – with Graham Johnson at the piano (Appl has worked with just about every major accompanist on the British scene) – of Lieder by Schubert. Hugo Shirley, who reviewed it, felt a marked advance even on that first disc: 'His instinctive feel for these songs is immediately striking and manifests itself in the sort of artlessness that distinguishes the finest Lieder singers: a lack of tension, an easy relationship with the poetry, a confidence in the words and Schubert's melodies to communicate with nothing but the gentlest helping interpretative hand.'
This young singer has huge potential and we look forward to following the exciting journey that lies ahead. As Richard Fairman concluded, in his May review: 'Sample his debut solo disc and you will hear the current front-runner in the next generation of Lieder singers.' James Jolly
The Young Artist of the Year Award is supported by Help Musicians UK
Photo of Benjamin Appl by Falk Kastell
If you are a library, university or other organisation that would be interested in an institutional subscription to Gramophone please click here for further information.