Label of the Year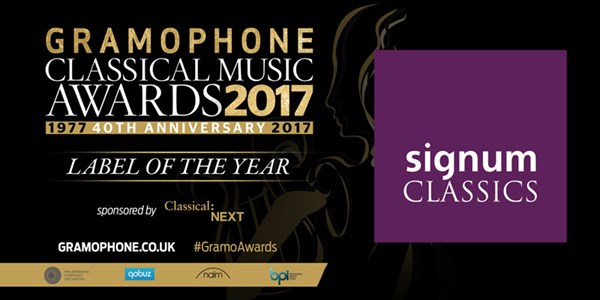 Signum Classics
For an avid record collector, opening the morning's post at Gramophone remains one of life's great joys; and opening the post when a package arrives from Signum induces particular pleasure since it unleashes the spirit of serendipity. In an age awash with information, the simple act of opening a parcel without knowing quite what's inside is an unusual surprise. What you can always be sure of with Signum's monthly releases is that they will invariably be splendidly recorded and never predictable. And that recipe has set the company in good stead for the first two decades of its existence.
It's always good to mark significant anniversaries in the life of a record company, but when that anniversary is supported by a stream of first-rate recordings, recognition is less dutiful and rather more the result of inspiration. The 2016-17 vintage has seen some truly superb releases and many Editor's Choices – Haydn's The Seasons conducted by Paul McCreesh, a terrific recording of chamber and vocal works by Jonathan Dove, Sophie Bevan and Ian Page's The Mozartists in scenas and concert arias, further instalments in Malcolm Martineau's Fauré song series, JS Bach organ works from David Goode, Peter Donohoe's Shostakovich Preludes and Fugues, Nielsen's Flute and Clarinet Concertos with the Philharmonia conducted by Paavo Järvi, choral works from St John's College, Cambridge, and Wells Cathedral Choir, Roy Harris and John Adams violin concertos from Tamsin Waley-Cohen … the list goes on.
It's been a long journey from the mid-1990s, when Floating Earth (Signum's sister company) would make recordings in an executive production capacity – which it financed, owned and licensed to both independents and majors – to today's position as one of the most productive companies (in quantity, quality and range) on the UK classical music scene. As Steve Long, Signum's MD, recalls, an approach from an artist to record nine discs of Tallis got things under way. 'Having pressed the first three albums and been to [the industry trade fair] Midem to get distribution, the first discs went on sale in November 1997. We were quickly approached by other early music groups who wanted to be on this new early music label so rather than be a niche of a niche I decided to broaden the scope of the label to be a multi-artist but still early music label. We continued in that vein until about 2001, by which time we had over 40 albums released but copious requests from non-early-music groups to join the party.' Soon artists like Tenebrae and The King's Singers had a new home.
'We have a number of different ways of making recordings happen', Long continues. 'The most common is that an artist comes to us with an idea and we make it happen in that we take care of technical and production elements and they put in the musical and artistic elements. We always like the artists to be "invested" in the recording and have the making of the recording the start of the journey, not the end, as far as they are concerned. We view each release as a co-production with the artists. We also like each artist to undertake a series of recordings rather than stand-alone projects so we can develop a following for them.'
With over 500 recordings in the catalogue and 50 releases emerging each year, Signum is very much a part of our world – and, always mindful of the way its audience listens, ensures that it is visible on all available platforms and on formats from the traditional CD to the massively popular stream. James Jolly
The Label of the Year Award is sponsored by Classical:NEXT
If you are a library, university or other organisation that would be interested in an institutional subscription to Gramophone please click here for further information.