Young Artist of the Year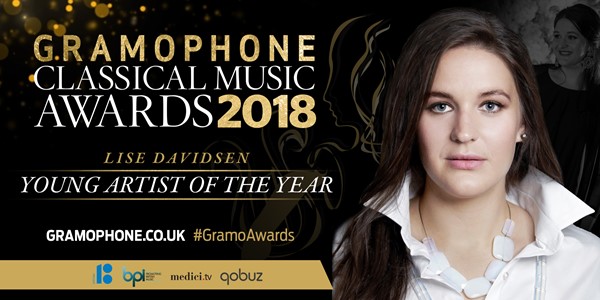 Davidsen's is a name to remember, and a voice – once heard – you won't forget, writes James Jolly
Every so often you encounter a voice that strikes you like a thunder bolt. For me, my Damascus moment came at London's Wigmore Hall for a Rosenblatt Recital in the summer of 2017. Encouraged by friends' enthusiasm and a slew of awards (including both the Operalia and the Queen Sonja competitions), I went to hear the young Norwegian soprano Lise Davidsen give a recital with James Baillieu at the piano.
The programme was a mixture of song and opera arias, and what struck home with real force was the quality of the voice – whether singing songs by Grieg, Sibelius or Richard Strauss, or in arias by Weber, Cherubini, Puccini or Wagner. It certainly impressed two Gramophone regulars. Richard Fairman, writing the next day in the Financial Times, commented 'some young singers take an age to mature. Only a few years after starting to study, first as a mezzo-soprano in her native Norway, then as a soprano in Denmark, Lise Davidsen has sprung forth, like Athene born from Zeus's head, fully armed and ready to take on the world.'
Meanwhile, Alexandra Coghlan, writing on The Arts Desk, characterised the voice with precision: 'This is already a glorious sprawl of a voice, one that sets the Wigmore Hall dome buzzing with resonance. Thick and supported from top to bottom, it's easy to hear in the charred warmth of her lower register why she started life as a mezzo. But if the bottom glows, the top is cooler, losing none of the breadth of sound, but gaining a glinting sheen.'
Operatically, Davidsen is the Ariadne of the moment – whether at Glyndebourne, Aix-en-Provence or Vienna – and though the productions have not been met with particular enthusiasm, Strauss's heroine invariably stole the audience's hearts. Vienna's Kurier wrote last December that 'her voice is powerful, confident in all registers, with beautiful timbre in the low registers and a pleasing precision and clarity in the air. Her technique is also noteworthy, she can effortlessly seem to shift between dramatic eruptions and delicate passages ...one has the impression that a great Wagner heroine grows here.'
Newly signed to Decca, we will soon be able to sample Davidsen's art in the music of Strauss and Wagner, but meanwhile may I commend her contribution to the Verdi Requiem (a role she repeated at the Proms on August 30) under Edward Gardner? She appeared on one of the Gramophone Award shortlisted recordings this year – in music by Grieg, revealing an impressive gift for drama. Davidsen makes her Covent Garden debut this month in Wagner's Ring.
Hers is a name to remember, and a voice – once heard – you won't forget. James Jolly
If you are a library, university or other organisation that would be interested in an institutional subscription to Gramophone please click here for further information.