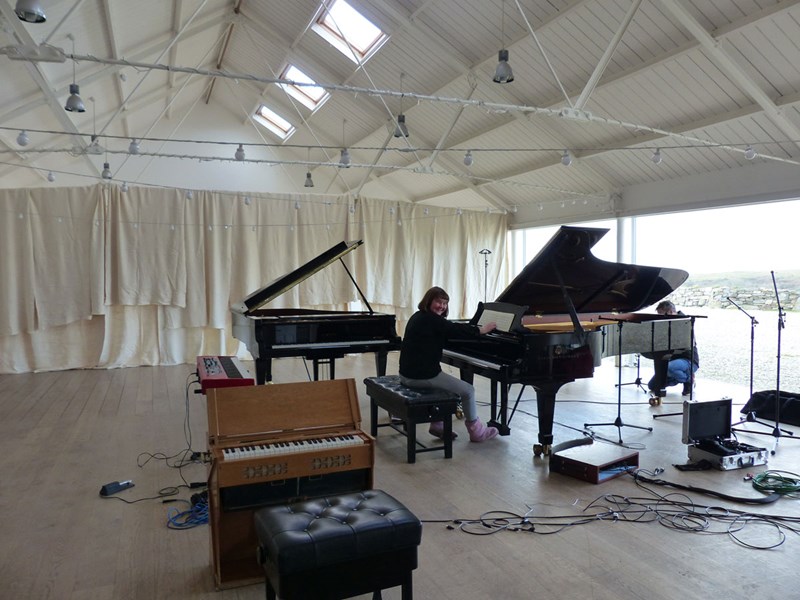 Mhairi Hall recording in Crear, Argyll
I have always loved slow airs, many of which come from the rich song traditions of Scotland and have been passed down through families and friends at gatherings over many decades. I find it very inspiring to take an old melody or song and turn it into something new, with colours in chords and textures, giving it a new life on a completely different instrument that maybe didn't exist when it was originally composed. Many of the melodies on my new album Airs are now classed as traditional however, at some point of course they were composed; names sadly lost in time. I take the heart of these melodies drawing from the original sentiment, history or place and transport them on a journey on the piano. I am, with this album especially, painting a picture for the ears, connecting the listener to the history or story behind the original melody. During the pre-production phase of this recording I thought it would be great to involve an artist in the project and take the idea even further.
Scottish landscape artist Beth Robertson Fiddes spent the early years of her life on the remote island of Tiree. Her parents were both art teachers and later moved to teach at Kingussie High School in the Highlands. This was also the school I attended, and I knew both her parents and was friends with her youngest sister. I remember hearing about Beth, but we didn't meet in person until this album. Her art has coincidentally popped into my life on several occasions over the last 15 years, I knew one day I would ask her to be part of a project and this seemed like the perfect time, I was delighted when she agreed. This is Beth's first musical collaboration, but we deliberately didn't plan the direction it would take or what we were aiming for, to make the process develop organically.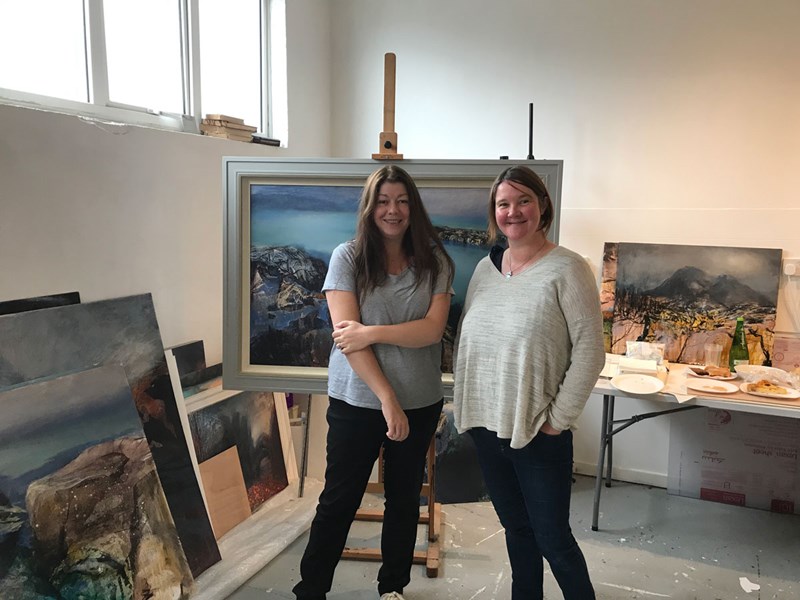 Artist Beth Robertson Fiddes and composer Mhairi Hall
Beth attended the recording in Crear, Argyll in 2018. I had the space to offer her a residency and she agreed to come and spend time getting inspiration from the area and music that was being recorded. She sat in on a few of the tracks while I recorded the piano and harmonium. I also visited Beth in her studio to see how she worked, and record some of her studio sounds. We discovered our inspirations are very similar; including the landscape of the West of Scotland, Gaelic history and tradition of place. In addition, we discovered the process of our working and workflow also mirrored. We are both fascinated with taking a basic idea and then painstakingly add multiple layers, to create something that is both traditional and contemporary, a nod to the past yet giving an old idea new life. 

After the recording in Crear we both went our separate ways for several months to develop our own work. I worked with ProTools editing the music, experimented with different sounds and arrangements. For a few years I have been recording sounds from the natural environment when on my travels. Lots of wave sounds, water sounds, trees moving, and ambience from different spaces. I have recorded sea sounds from all over Scotland! It was a real learning experience, but great fun to create my own library of sounds as each has a story behind it, and it was then exciting to pick what would go where. Scottish traditional music is very connected to the landscape, there are thousands of melodies named after places. My previous album is called Cairngorm after one of the mountains from my home area. All of the melodies in that recording are connected to the landscape or people of the area. Therefore, for me, it is a very natural thing to include sounds from the landscape. 
During the months apart I sent Beth mixes of the music as it was developing and she in turn sent me images of her artistic pieces developing. The album developed into a real shared and special experience. Even living at different ends of the country we have managed to meet up fairly regularly to chat and discuss ideas. Our Airs collaboration has turned into an album, a concert with projected backdrop of her work and an art exhibition. 
Airs will be released on January 30. The first single from the album, 'Ae Fond Kiss', is out now. For further information, please visit: mhairihall.com