Jed Distler Cliburn Blog No 10: Staggering Liszt and so-so Mozart
Sunday, June 12, 2022
Our correspondent at the competition is dazzled by the diamond among the unexceptional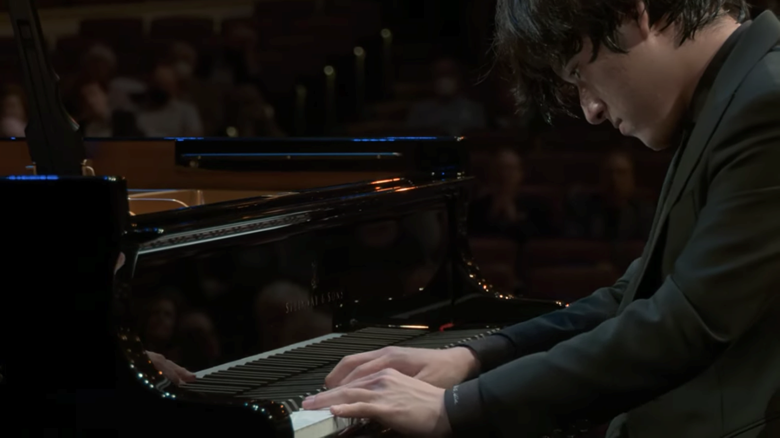 The announcement that 18-year-old Yunchan Lim planned to devote his entire Semi Final recital to all 12 Liszt Transcendental Etudes created a buzz throughout the international piano community. Could the youngest of 2022's Cliburn finalists bring off such an audacious test of technical wherewithal, musicianship and stamina? As it happened, Lim made it to the Semi Finals, and, my God, he delivered the goods. Indeed, Lim's intelligent virtuosity and total immersion into Liszt's idiom truly defined transcendental.
The audience was still applauding as Lim launched into his shapely and mindfully proportioned 'Preludio'. The second étude's broken double notes and unwieldy leaps posed no technical nor musical problems whatsoever. Perhaps Lim could have nudged the lyrical 'Paysage' along, playing more directly. On the other hand, the pianist's amazingly suavity and orchestral sweep throughout 'Mazeppa' conveyed minimum bluster and maximum nobility.
At times 'Feux Follets' teetered over the speed limit, yet Lim never relinquished control. He must have had as much fun playing as I did listening, although the poetic finesse of Marcel Tadokoro's Preliminary 'Feux Follets' refuses to dislodge itself from my addled brain. Also noteworthy were the arpeggio tidal waves of 'Vision', plus interlocking octaves in 'Wild Jagd' that made Georges Cziffra's sound arthritic by comparison. His elegantly fluid 'Ricordanza' compelled me to reiterate the quote from a YouTube poster that describes Lim as a '40-year old in an 18-year old body'.
Listeners expecting monumentality and gravitas from Brahms's Handel Variations may have been taken aback by Ilya Shmukler's highly embellished main theme, fanciful changes of voicing on repeats, and arguably contrived tempo relationships. I, for one, love when pianists like Shmukler fumigate this hoary repertoire staple's Teutonic cobwebs. Ironically, Shmukler's weighty and serious way with the Prokofiev Eighth Sonata's long first movement might be construed as, well, Brahmsian! However, I would have preferred a comparably stolid yet less stolid finale on the level of Kate Liu's more graceful inflected and suppler Preliminary Round performance. She may be a competitor no longer, yet her interpretation survives online for all time (we hope!).
On to the evening's Mozart Concerto segment, where, once again, the D minor, K466, turned up twice. Yutong Sun's overall musicality and subtlety of inflection in each movement contrasted to Jinhyung Park's capable yet rather neutral and colourless pianism. Given Masaya Kamei's staggering command of the Romantic repertoire's most intractable masterpieces, his Mozart is surprisingly inhibited. I expected more humour and incisive soloist/ensemble interplay than the performers were willing to convey in F major, K459's joyful and inventive finale; would an extra rehearsal or two have done the trick?
Nicholas McGegan and his musicians more successfully locked in to the C major, K503 concerto's grander, more symphonic dimensions. However, Anna Geniushene's sectionalized, square-cut and frankly unsmiling Mozart pianism is not for me, especially when she hammers out Martellato passages to such stern and ugly effect.
To watch more videos of the performances discussed above, visit the Cliburn International Piano Competition website: cliburn.org
Gramophone is a Media Partner of The Cliburn International Piano Competition