Music For Youth Proms: Inside the Orchestration
Jack Pepper
Tuesday, November 7, 2023
Composer, radio presenter and Gramophone contributor Jack Pepper is also a proud ambassador for UK national charity Music For Youth. This year's MFY Proms will premiere songs from his new stage musical, which tells the true story of his piano teacher and has classical music at its heart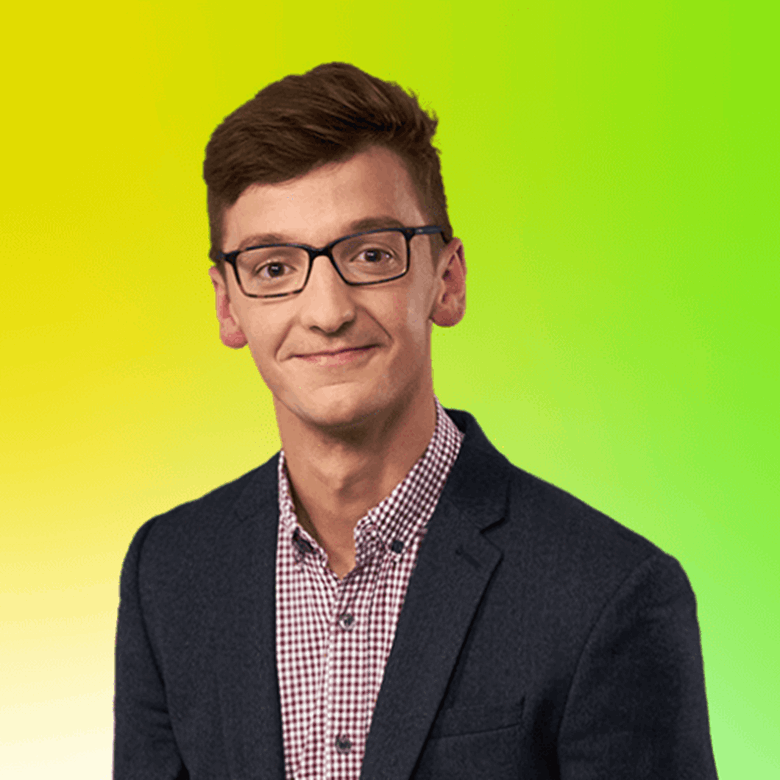 In Part One of our MFY Proms countdown, Jack explores his musical contributions to the event…
November is upon us, and that makes it time for the annual celebration of the UK's finest young musical talent: the MFY Proms, organised by national charity Music For Youth. They're a live events producer for young people aged 25 and under, providing world-class stages, professionally produced shows and mentorship across genres. I hosted their National Festival in Birmingham in July, which saw 6000 young people – from county youth orchestras to school choirs to solo singer-songwriters – take to six stages across the city, including Symphony Hall. Now, the finale of their annual season: 3000 musicians performing across two nights at London's iconic Royal Albert Hall.
This year's MFY Proms form the centrepiece of a new national campaign I pitched and am helping lead: the Thank You Note Campaign, #ThankYourMusicTeacher, which celebrates the music teachers and mentors who support our young people. I spent the summer helping gather a group of like-minded partners, from The Times newspaper and Scala Radio to UK Music, Music Mark, The Musicians' Union, the Royal Philharmonic Orchestra and the Royal Albert Hall, to name just a few. At a time when the job of music teacher can seem unglamorous and unappreciated, we want to put them in the spotlight.
The campaign was inspired by an original musical I have been developing over the last three years; Duet tells the story of my real-life piano teacher, Mike Jenkins, and his piano teacher wife, Sarah. Mike has mentored everyone from Neville Marriner's jazz drummer grandson Douglas, to Mumford & Sons star Marcus Mumford. Mike happened to retire to live on my road and soon became a valued mentor; I was already writing for small ensembles, largely self-taught as a composer, and Mike would invite me down the road to play him my latest piece and receive feedback. This began four years of lessons and a lifetime of friendship. Mike was one of the first people to show an active interest in my songwriting, teaching me about the importance of an open-minded approach to genre and the old Vaughan Williams and Verdi adage, 'to thine own self be true'; he helped give me the confidence to be myself, to put my foot in doors and to be a musical entrepreneur, all vital skills for any young musician today.
When I turned 18, Mike told me more about his own life. It was a story of love, loss and at times mortal danger, where music quite literally saved his life. The night Mike and Sarah told me their story, I ran to the piano the minute they left the house; this was the beginning of Duet, a show about two people and a piano, the purest and longest lasting of loves, the story of an old flame carried by music. Developed in association with The Lowry, Southampton Mayflower / MAST Studios and Norwich Theatre, this show is my thank you note to Mike – and so it felt appropriate to draw on its songs for the MFY Proms and our Thank You Note campaign.
So, expect a set of big premieres: four songs from Duet will be heard in public for the first time, in a mammoth orchestration I have created for a massed ensemble…
At the heart of the annual Prom is what MFY dub the 'Creative Project': a large-scale, multi-movement piece that has a topical theme each year, be it the environment or cross-genre fusion. 500 people have applied for the opportunity to sing as part of the chorus for this, whilst the remaining 1000 represent some of the finest young talent the charity has discovered in the last year. The 2023 Creative Project is bigger than ever; I have composed 20 minutes of music, in two halves, the Thank You Note Preludes. They will open each half of the show; each will start with a solo classical piano piece (the pianist having been selected following a nationwide callout), which soon expands into an orchestrated version of that music, before dovetailing into arrangements I have made of original songs from Duet. The central section of both Preludes will be narration, with young people narrating their thank you notes to their teachers over the top of an orchestral bed. My thank you note becomes theirs.
At the heart of these Preludes will be two piano gems that I myself learnt with Mike: JS Bach's Prelude in C minor and Chopin's Nocturne in E minor, Op 72 No 1 (the love music in Duet, in real life this was the piece to which Mike and Sarah fell in love). These two works offered me a rich minefield of ideas for variation and development; the dissonance and chromaticism of the Bach lends itself to a dramatic concert opening, whilst the aching lyricism of the Chopin suggests both the pleasure and the pain of our character's love. I've always felt both pieces cry out for an orchestration; both feel like epic mini dramas of their own, with so many voices and layers in the piano part that could be easily expanded and embellished for orchestra. I love hearing arrangements of famous pieces, whether it's Iain Farrington and the Art Deco Trio taking on Bizet, or the Klazz Brothers putting a Cuban twist on Beethoven's Pathétique. An arrangement is rather like changing clothes: whilst your essential personality remains the same, you can be seen in a whole new light.
It was exciting, too, to orchestrate my own songs; the stage musical is scored for piano alone, but the songs' dramatic scope makes a full-blown symphonic version a bit of a dream. And this is full-blown… I've been lucky to compose for ensembles like the Royal Liverpool Philharmonic and the Orchestra of the Royal Opera House – writing for ensembles of up to sixty people, typically – but I've never written a score on this scale: hundreds of players in the orchestra, plus jazz/big band and brass bands, alongside hundreds in an SATB choir plus vocal soloists, totalling more than 1300 participants each night. The temptation as a composer is to write for them all, all the time; but as many composers have commented before, the skill is taking notes out rather than putting them in, and I've been careful to subdivide the group so that the truly massed-ensemble moments really land.
The other challenge is to write for such a range of instruments, ages and abilities. Ukulele groups and primary school choirs will sit side by side with the semi-professional RNCM Session Orchestra; some of our musicians have only been playing for a few months, others for almost a lifetime. To address this, I have created simplified versions of most instrumental lines, with fewer notes and a smaller range; these simplified lines are almost like a variation of their own, distilling the essence of the more extended part.
Musicians from different genres also have different mindsets; the jazz players may be more used to following a drum kit and improvising over the top, than they will be following a conductor and gelling with a symphony orchestra. Four conductors and proper amplification of my piano playing to specific groups should help address that and keep everyone together on the night.
There is one premiere I've yet to mention. Every year, the MFY Proms conclude with a firework finale, where all of the night's performers come together to perform. This year's big finish – and the anthem of our Thank You Note Campaign – is another new song from Duet; 'In Tune' celebrates how music helps us tune into ourselves and each other. As part of the finale, I have extended the song so that there is a total textural breakdown, solo voice and piano introducing a solo orchestral instrument; then one by one, the players re-join the fray, until we have 1500 people all singing and playing at once. It will be the first time all evening that every single performer is playing simultaneously… truly we will be in tune! I hope…
My teacher, Mike, turns 80 next year, and his wife Sarah celebrated her 60th in the last few months. Their energy, optimism and hard work over the decades have inspired many musicians and music-lovers; they are the unsung heroes of music. I'm hoping that their example, and the many more we are discovering through our campaign, will help highlight the incredible mentors who make music possible. Music teachers enable the future of music; this November, let's shine a spotlight on those who are in the fullest sense, music makers.
---
The MFY Proms are at the Royal Albert Hall on November 14 and 15. Tickets are available here: royalalberthall.com
You can upload video testimony sharing stories of the music teacher or mentor who inspired you on social media, using the hashtag #ThankYourMusicTeacher and tagging @musicforyouth, or emailing it to marketing@mfy.org.uk