Music Teachers Through Time – A Playlist
Friday, November 10, 2023
In Part Two of our countdown to this month's Music For Youth Proms at London's Royal Albert Hall, composer and MFY Ambassador Jack Pepper curates a playlist of music written by the finest music teachers…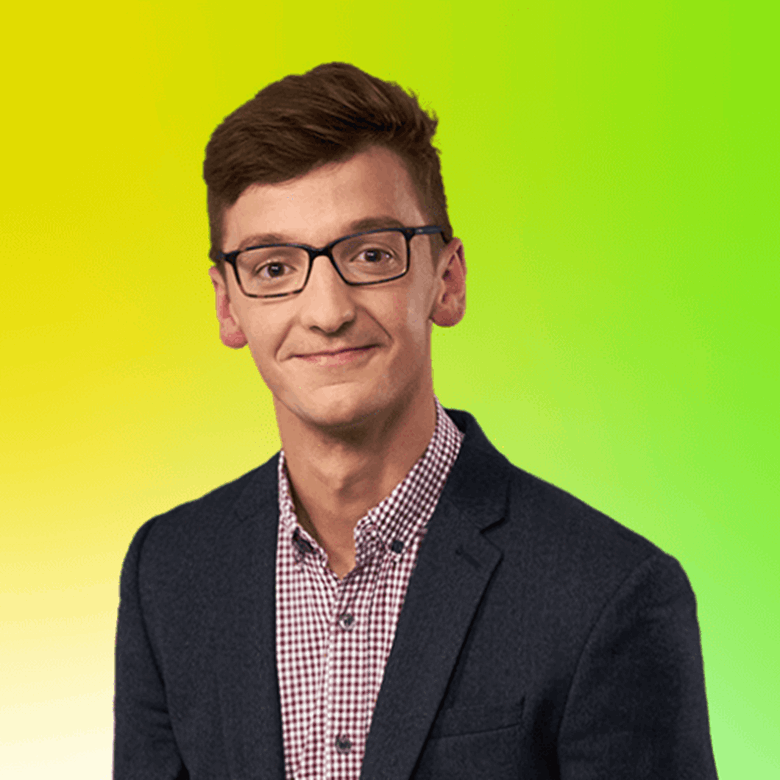 Back in July, I had an idea. I was presenting the Music For Youth National Festival at Birmingham's Symphony Hall, where 6000 of the UK's finest musicians from across genres came together to share their work. As each group performed, what the audience couldn't see was a whole team of dedicated teachers, parents and mentors waiting eagerly backstage. This was the genesis of the Thank You Note #ThankYourMusicTeacher campaign, celebrating the unsung heroes of music. I'm proud to say we've now built our very own band, with partners including the Royal Albert Hall, Royal Philharmonic Orchestra, ISM, The Musicians' Union, UK Music, The Times, Scala Radio and others.
In many ways this all started with my own piano teacher, Mike Jenkins. He had been Head of Music at a prestigious South London school, counting Marcus Mumford and Jon Hopkins among his pupils and taking his school choir to collaborate with everyone from Steven Spielberg to Neville Marriner. He retired to my road, started talking to my family as we walked our dog, heard I was composing for instrumental groups and then invited my fourteen-year-old self into his home to play him some of my pieces. This began what is really the only formal-ish compositional training I have received; perhaps more importantly, he has proven a fountain of life advice.
Mike's own inspiring (and at times terrifying, shocking but ever-instructive) life story has since inspired my first stage musical, Duet, currently in development with The Lowry, Southampton Mayflower / MAST Studios and Norwich Theatres. It's the story of Mike and his fellow piano teacher wife, Sarah: a love story of two people and a piano. Duet is my thank you note to my teacher, and a selection of its songs will form a nationwide thank you note at the MFY Proms this November 14 and 15: the Royal Albert Hall will provide an epic stage for 3000 of the UK's finest young musicians to premiere my songs.
Without music teachers, there is very little music left. They secure the sounds of tomorrow. Yet today, 'music teacher' strikes many as an unglamorous role; some stereotypes assume it is the last-ditch career choice after failure to become a soloist, orchestral player, composer or 'star' (whatever that means). This campaign seeks to change that; to show that teaching is in many ways the most important job you can do in music. I've curated this playlist as a gentle reminder that some of the most respected and famous musicians in history have themselves been proud music teachers…
JS Bach Klavierbüchlein für Wilhelm Friedemann Bach: No 18, Prelude in B minor, BWV 855a
Alexandre Tharaud (pno); 'Alexandre Tharaud: Autograph', Erato, 2013
Some of Bach's greatest compositions were educational devices and exercises. For his son Wilhelm Friedemann's ninth birthday, he gifted him quite possibly the most exciting musical textbook (and birthday present) ever received: his two-part Inventions and Sinfonias, plus assorted preludes and minuets. The pieces are ordered by complexity and the preface is a beginner's guide to performance. Touchingly, at the back of the original book were empty pages, so that father and son could co-compose what music came next. It has been described as 'perhaps the most precious gift any child has ever received.'
The gesture underlines how Bach saw music and his role as a composer; it is an act of giving, instruction and celebration. To be a composer makes you both a teacher and a student. It's doubly powerful since Bach was himself practically self-taught; he left school at 17 and famously hand-copied the works of famous composers by moonlight to learn their style. He understood the value of a strong musical education. Appropriately enough, his works have formed the bedrock of many a music student today. His C minor Prelude from The Well-Tempered Clavier features in my musical Duet and in my arrangements for the MFY Proms; it was a piece I studied with Mike and played for my Grade 8 piano exam, and I always associate with my teenage years of learning the instrument.
In a full circle moment, let's enjoy a transcription that Alexander Siloti made 'for the young'.
Chopin Nocturne No 19 in E minor, Op 72, No 1
Benjamin Grosvenor (pno); 'Benjamin Grosvenor: Chopin, Liszt, Ravel' Decca, 2011
It could be argued that one of JS Bach's great pupils was Chopin; after all, Bach's 48 Preludes and Fugues inspired Chopin to write his own collection, and it's said that The Well-Tempered Clavier was the only score Chopin took with him on his trip to Majorca, where he wrote his own set. Bach was a staple of Chopin's teaching too, appearing long before he taught pupils his own works or Beethoven's.
Today, we think of Chopin as a pianist and composer for the instrument, but often forget he was among the most famous of its teachers and made most of his living from that role. He's believed to have had around 150 pupils, who came from as far afield as Lithuania, Norway, Russia and Britain. He devoted several hours each day to the role for six months of the year, starting at 8am sharp (always impeccably dressed, naturally). He was described by Maria von Harder as 'a born teacher… entirely absorbed in his task; during the lesson he would be solely a teacher, and nothing but a teacher.'
Indeed, Chopin the teacher was in greater demand than the world-famous Liszt and Kalkbrenner. He was known for his courtesy and patience, but was also pretty revolutionary for his time; the idea that piano technique was a means and not an end, that self-expression and sensitivity were the ultimate goals, were contrary to what many a music professor of the time (and since) emphasised. Remember this is at the same time that Kalkbrenner was advising his students to practise technical exercises whilst reading a newspaper!
Two of Chopin's pupils became celebrated teachers in their own right – Georges Mathias and Karol Mikuli – and poignantly, the latter curated one of the first authentic Chopin editions in tribute to his teacher. Between Mathias and Mikuli, their music students included Satie, Dukas and Teresa Carreño; music history is a long family tree, a handshake from teacher to student.
Chopin's E minor Nocturne was the piece to which my piano teacher, Mike, fell in love with his pianist wife, Sarah; it is the love theme of Duet, and forms a central part of my arrangement for the MFY Proms. So, it felt right to select a reading by a leading young pianist of today; Benjamin Grosvenor was 19 when he made this recording.
Louise Farrenc Symphony No 3 in G minor, Third movement
North German Radio Symphony, Hannover / Johannes Goritzki (cond); 'Louise Farrenc: Symphonies 1 & 3', CPO, 2000
A teacher through her example as well as her job, Farrenc fought for equal pay for women whilst working as a professor at the Paris Conservatoire in the 1840s. After a decade of struggle, she achieved gender pay parity. She taught there for 31 years, had many competition-winning pupils, and as professor of piano was the only woman to hold a permanent chair of her rank at the Paris Conservatoire that century. Her compositions proved equally inspiring; her 30 Etudes in all the major and minor keys were adopted as permanent study pieces at the Conservatoire's piano classes from 1845. Music critics of the time predicted the set would become a classic.
Three symphonies flowed from her pen, and I always hear the fiery passion of the third and think of the warrior behind it. Farrenc is a powerful illustration of how a teacher is first and foremost an advocate; the best lesson is an example.
Holst St Paul's Suite – Jig
English Sinfonia / Howard Griffiths (cond); 'Holst: Double Concerto, St Paul's Suite, Brook Green Suite', Naxos, 2007
The son of a piano teacher, fittingly enough classroom teaching provided the bulk of Holst's income. He was a teacher at two leading London schools, including working as Director of Music at St Paul's Girls' School from 1905 (working there for nearly 30 years); he also led evening classes for adult beginners at Morley College. In fact, it was his students who helped copy out the orchestral parts for The Planets, ready for its premiere.
In his lessons, practical music-making was emphasised over dry and distant textbook study of technique; he encouraged his pupils to play, sing and compose simple pieces. As Imogen Holst relayed, 'Holst's sort of teaching wasn't just harmony lessons, it was always composing. He taught them to make up rounds, and then they spent the lessons singing them … we very soon learned … something about harmony from the inside … we learned from trial and error, which was his way of teaching: learn by doing.' This must be why many of his compositions were written for community groups or children; his children's operettas Ianthe and The Idea were written for and staged at his aunt's school in Barnes.
The St Paul's Suite was penned for his school orchestra, opening a new music wing in the building; the school had provided him with a soundproof studio in which to work – Holst always needed silence for composition – and gifting this piece was one way of saying thank you.
Glanville-Hicks Etruscan Concerto – Promenade
Keith Jarrett (pno); Brooklyn Philharmonic Orchestra / Dennis Russell Davies (cond); 'Lou Harrison, Peggy Glanville-Hicks, Terry Riley', MusicMasters Classics, 2008
This Australian composer counted Ralph Vaughan Williams, Malcolm Sargent, Egon Wellesz and Nadia Boulanger among her teachers (she was only accepted as a pupil by the latter after hounding her at numerous functions and on many a doorstep!). Glanville-Hicks later became a notable champion of different musical genres and causes, convening great names and teaching by example. She gave much support to young composers, promoted new music, organised a series of concerts of Indian music with Yehudi Menuhin, helped create an International Music Fund with UNESCO to provide financial support to European creatives after the Second World War, advised the Australian government on culture, the list goes on …
Her example underlines the fact that music is a community; generosity and sharing are built into the mechanics of music – the mere gesture of writing or performing a piece is an act of soul-sharing, of giving and opening up – and a good teacher is a leader in that.
Schoenberg Theme and Variations
Deutsches Symphonie-Orchester Berlin / John Mauceri (cond); 'Schoenberg in Hollywood', Decca, 1997
In Schoenberg's preface to his influential 1911 music theory book, Theory of Harmony, he writes 'this book I have learned from my pupils.' Besides influencing many a musician by helping create a new way of writing music, Schoenberg was a literal composition teacher; Berg, Webern, Eisler, John Cage and Lou Harrison were among his pupils. He spent three years teaching at the Stern Conservatory, taught composition at Berlin's Academy of Arts, and when he came to America taught at the University of California. On his method, he said: 'I do not force anyone to compose in the modern manner if he does not feel in a modern way … one must express oneself.' He credited himself with helping Berg to write instrumental themes, beyond purely vocal ones. Schoenberg's own musical tastes proved broad, hailing George Gershwin as an innovator and challenging those who felt he was not a 'serious' composer (this from the man often seen as the archetypal 'serious', clinical composer); Gershwin is often described as one of his pupils, and the pair even played tennis together in LA.
As a teacher, Schoenberg is credited with developing his students' individuality, never using his own music as a prototype; as his student Karl Linke put it in reference to Schoenberg's impact, 'the goal of education can only be knowledge that the pupil somehow has to acquire on his own. The distinct task of the teacher can be only to show the student his own path there.'
Here, we listen to an album celebrating Schoenberg's time living and teaching in LA; the Theme and Variations were originally written for local school bands to perform.
Nadia Boulanger Cantique
The Pembroke College Girls' Choir / Anna Lapwood (cond); 'Celestial Dawn', Signum Classics, 2022
Arguably the most sought-after music teacher of the last century – certainly one with the most famous pupils – Nadia Boulanger is the force of nature behind Aaron Copland, Quincy Jones, Philip Glass, Virgil Thomson, Elliott Carter, Walter Piston, Lennox Berkeley, Astor Piazzolla, Daniel Barenboim, George Walker, John Eliot Gardiner, Dinu Lipatti and Michel Legrand (and this wasn't for a single consultation lesson or two, either: Legrand was with her for seven years). She accepted pupils from any background, the only condition being that they had a burning desire to learn.
Nicknamed 'Mademoiselle', Boulanger would host pupils in her Parisian apartment wearing her trademark pince-nez, black dress and thin bow ties; she was teaching almost up until the day she died, aged 92.
Perhaps most instructive about her outlook as a teacher is the fact she refused to write her own theory textbook or method; she believed in personality over pedantry. Perhaps this accounts for her impressively broad range of pupils, working in every genre.
Here, we enjoy a reading of her music led by a leading educator and champion of music today; Anna Lapwood conducts The Pembroke College Girls' Choir, where she is Director of Music (and on her appointment made history as the youngest Director of Music at an Oxbridge College, aged just 21).
Quincy Jones Soul Bossa Nova
Astrig Siranossian (clo) / Nathanaël Gouin (pno); 'Dear Mademoiselle: A Tribute to Nadia Boulanger', Alpha Classics, 2020
An impressive range of genre-crossing can be found on this infectious recording, taken from a wide-ranging tribute to Nadia Boulanger; it features composers she taught and inspired, from Stravinsky and Michel Legrand, to her own 3 Compositions for Cello and Piano, to this jazz-infused arrangement of Quincy Jones.
As one of her pupils, Jones credits Nadia Boulanger with 'the best advice I ever received in my entire life'; in 1957, she told him 'your music will never be more or less than you are as a human being.' In Jones's words, this meant he 'started work on the human being.' 80 Grammy nominations and a 70-year-plus career are the result. It really could be argued that without Nadia Boulanger, there would be no Michael Jackson's Thriller!
Fittingly, Quincy Jones has since become an influential mentor behind the brightest young talents working across genres today, via his artist management and production company Quincy Jones Productions; Jacob Collier is chief among his protégés. So, many a young pop, jazz, R&B and hip-hop artist today can trace their lineage back to classical music and 'Mademoiselle'.
Their twin example highlights how a pupil becomes a teacher and vice versa; music education is a vital exchange between creative minds, a two-way street that continues long after the mind is gone. Across genres, countries and individuals: music itself is an act of timeless education and communication. It is a good music teacher who enables this.
---
Jack Pepper is a composer, broadcaster and writer, and an ambassador for UK charity, Music For Youth.
The MFY Proms are at the Royal Albert Hall on November 14 and 15. Tickets are available here: https://www.royalalberthall.com/tickets/events/2023/music-for-youth-proms-2023/
You can upload video testimony sharing stories of the music teacher or mentor who inspired you on social media, using the hashtag #ThankYourMusicTeacher and tagging @musicforyouth, or emailing it to marketing@mfy.org.uk.