Paying appropriate tribute to Bernard Haitink
Martin Cullingford
Monday, November 8, 2021
Gramophone's Editor reflects on how best to remember the great conductor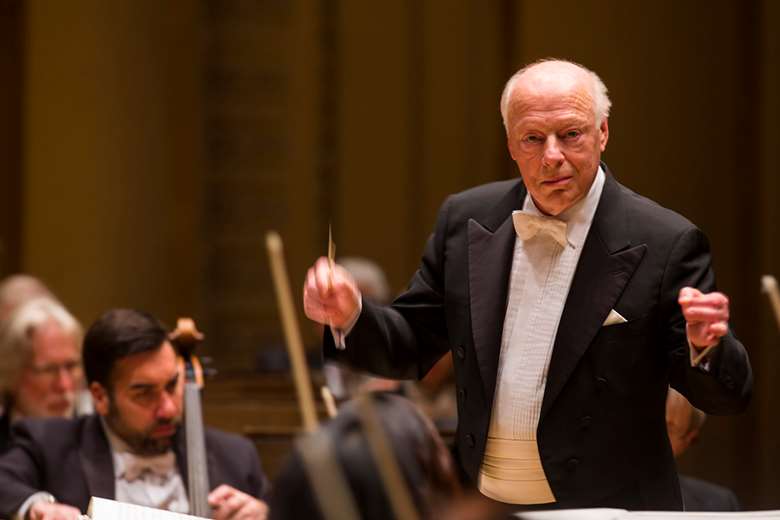 The November edition of Gramophone – newly out - was almost entirely at the printers when the sad news arrived of the death of Bernard Haitink at the age of 92. A fuller celebration of this remarkable man will thus have to wait for the next issue, though in the meantime you can find articles new and old about him here on our website. These include the tributes offered by some of today's leading artists, ensembles and labels when we honoured him with our Lifetime Achievement Award in 2015. Many used the word privilege to describe the experience of working with him; terms like inspiration and devotion appeared frequently; and perhaps getting right to the heart of his approach to music was what András Schiff described as a 'never-ending search for truth'.
Many people – both long-standing admirers and, one hopes, those looking to learn more about a figure who has generated such gratitude – will have reached for recordings. In my case, I turned to his recent, radiant performance of Mahler's Symphony No 9, made with the Berlin Philharmonic in December 2017. But in fact you could have chosen almost any composer from the orchestral and operatic canon, and taken many a journey into lesser explored areas too. For as the head of some of the most prestigious musical organisations – the Concertgebouw Orchestra, The Royal Opera, Glyndebourne Festival Opera, the London Philharmonic Orchestra, the Chicago Symphony Orchestra – as well as in many, many more collaborations with colleagues and partners, he made more than 450 recordings, a staggering number, several of them receiving Gramophone Awards.
This year's Awards – filmed at London's VOCES8 Centre and featuring many wonderful performances from winners new and past – is still available to watch on our website, and the recipients' reflections unite to offer a powerful tribute to the role of recording for both musicians and audiences. Particularly personal was that by our new Artist of the Year, Canadian violinist James Ehnes, who recalled growing up in a beautiful but isolated city, and so not one on the itinerary of many touring soloists. 'So it was really through recordings that I got to know not just the repertoire but also the great artistic voices of the 20th century,' he said. 'Great recordings can be like treasured friends – you grow with them, they grow with you – they are like snapshots of one's life.'
And they can play a pivotal role as advocates for those figures who had been unjustly neglected. This month the composer Florence Price features prominently in our pages, both as our Recording of the Month and through an in-depth look at her life and work by Andrew Farach-Colton. Concert halls are programming her music with increasing frequency, but the role recording can play in shining a light on this fascinating but forgotten musical voice is inspiring and timely as society assesses its relationship to race both today and in the past.
One other characteristic András Schiff had attributed to Haitink was 'an insatiable curiosity for all composers'. Perhaps the greatest tribute we as listeners can give to this great and much-mourned musician is to follow his example. 
The November issue of Gramophone is available now: find out more
Welcome to

Gramophone

...
We have been writing about classical music for our dedicated and knowledgeable readers since 1923 and we would love you to join them.
Subscribing to Gramophone is easy, you can choose how you want to enjoy each new issue (our beautifully produced printed magazine or the digital edition, or both) and also whether you would like access to our complete digital archive (stretching back to our very first issue in April 1923) and unparalleled Reviews Database, covering 50,000 albums and written by leading experts in their field.
To find the perfect subscription for you, simply visit: gramophone.co.uk/subscribe