The Chopin Piano Competition, day ten
Jed Distler
Wednesday, October 13, 2021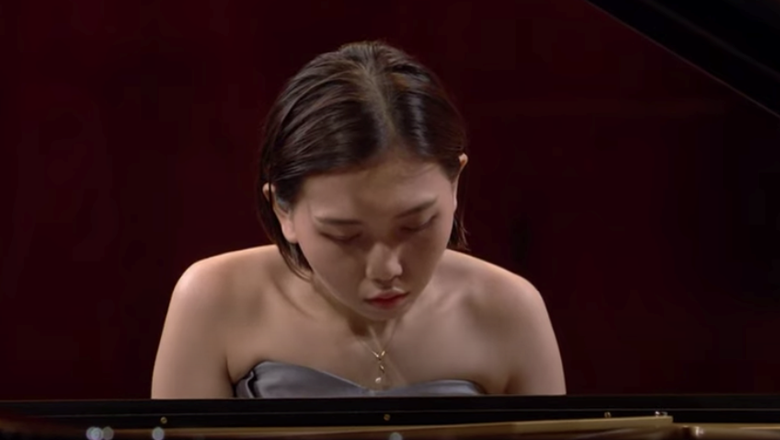 The final day of second-stage performances brought forth its fair share of pleasant surprises and less than memorable moments, together with some unquestionable knockouts.
Nothing in Canadian pianist Bruce (Xiaoyu) Liu's performances in the earlier rounds prepared me for the most ingratiating and wittily characterized interpretation of the composer's rarely heard Rondo à la mazur that I've ever heard. And, yes, that includes Sviatoslav Richter and Daniil Trifinov. Every run, every turn, every decorative gesture represented a masterclass in suppleness and grace under pressure. The music's basic tempo and F major tonality create a natural bridge into the Second Ballade, which, of course, opens in F major. Liu's old school inner voices and occasional arpeggiations might cost him a few jury points, and he's not the deepest dish in the cupboard, so to speak, but then neither was Shura Cherkassky.
And what about Liu's delightful rhythmic inflections, those unpredictable accents and shifts in voicing throughout the Op 42 Waltz? Yes, his Andante spianato and Grande Polonaise brillante was 'a mite twee', as my British colleagues might say. But who cares? Check your Urtext at the door and feast your ears on the candidate unto whom I proudly bestow the Chopin Competition's special 'dead pianist sound-alike' award!
Perhaps Liu impressed me all the more because he followed three relatively workmanlike pianists. However, the candidate scheduled to follow Liu, Marcin Wieczorek, resigned from the competition for health reasons. I send Mr Wieczorek my heartfelt healing vibes, and encourage readers to revisit his fantastic first-round performance of the Second Scherzo.
Su Yeon Kim first crossed my radar when she advanced to the 2015 Chopin Competition's semi final. During the 2016 Queen Elisabeth Competition's transmission, I stumbled on a terrific account of Beethoven's Waldstein Sonata in progress, without knowing who was playing. It turned out to be Kim.
She did well this morning. I especially loved her variations in touch throughout the A flat Impromptu's outer sections, in contrast to her slow and grim central episode, anchored by a prominent, tick-tocking left hand. As for Aimi Kobayashi, no piano bench mishap today! Last week I called her playing 'cold and calculated'. But that was last week. Has she been thawing out? Or maybe I'm just listening better? Probably the latter!
Most of the competition's Polonaise-Fantasie performances were slanted towards fantasy. Kobayashi, however, kept firm hands on the rhythmic reigns, while she carefully scaled her dynamics with the big picture in clear sight. Don't expect Vladimir Horowitz's nervous energy or Ivan Moravec's brooding colours. Just go to the video and watch how Kobayashi's rigour and concentration assiduously build up to a climax that sounds completely inevitable.
I'll give you another example of Kobayashi's inner core and detailed exactitude. Most of the contestants' right hands dominate in a chordal crescendo, while Kobayashi is more ambidextrous. Nor do her embellishments, trills and mordents betray any loose ends. In this context, the following contestant Mateusz Krzyzowski emerged more as a footnote than the inherently musical and stylish Chopinist that he is.
Nikolay Khozyainov became the Chopin Competition's youngest ever finalist back in 2010, when he was sixteen. Since then, his career and artistry have flourished. He's basically Aimi Kobayashi's antipode; his sonorous, room-filling tone and Romantic spirit personify the Russian tradition.
Khozyainov mixed and matched larger and shorter works, intelligently integrating them in regard to key relationships and emotional contrast. He opened with a generous, big boned A flat Polonaise that slipped into a performance of the Op 69 No 1 A flat Waltz that my late, beloved college piano teacher and former pupil of Schnabel and Lhevinne, Stanley Lock, would have called 'whipped cream'. For once in this competition, Op 34 No 3 sounded like a genuine Waltz rather than the Olympic hurdle. The grand scale and communicative power of Khozyainov's Second Ballade contrasted with Kobayashi's gaunter intensity. And he even made Chopin's student Fugue sound important (its main theme bears a striking resemblance to the old Nat 'King' Cole hit song 'Nature Boy').
The E minor Mazurka from Op 41 and F minor Mazurka Op 68 No 4 set the stage for a sublime Barcarolle, where Khozyainov patiently and eloquently unfolded the coda's extraordinary polyphony. Shades here of Arthur Rubinstein's October 1, 1964 Moscow recital broadcast – well, close enough!
Gramophone is a Media Partner of the 18th Chopin Piano Competition - you can follow the competition by watching the live stream at the chopin2020.pl - and visit us every day for more analysis from Jed Distler.