The Chopin Piano Competition, day 15: the semi-finals continue
Jed Distler
Saturday, October 16, 2021
Jed Distler continues his daily analysis of the prestigious event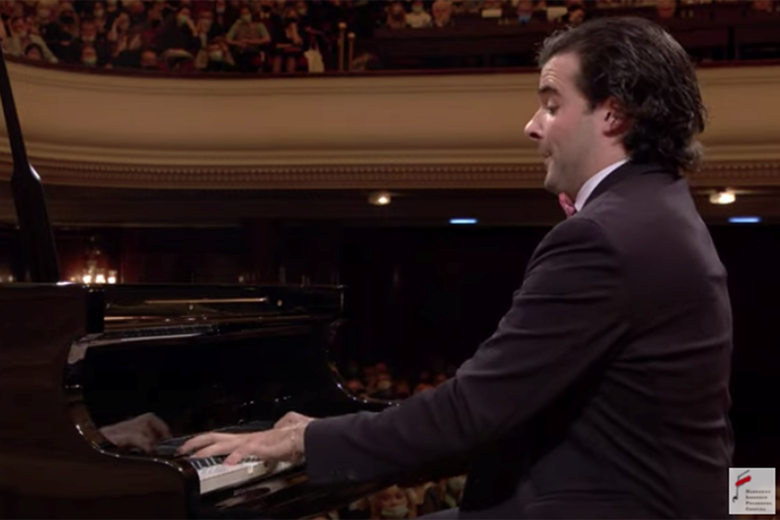 If Leonora Armellini felt any backstage nerves prior to today's activities, she certainly didn't look or sound nervous during her recital.
The first selection, Chopin's Polonaise-Fantasie ebbed and flowed with the utmost ease, as if Armellini knew her responsive Fazioli grand's every nook and cranny. The Op 41 Mazurka group offered lessons in nuance, timing and control that dozens of established piano luminaries could benefit from. I suspect that Armellini set a faster tempo than she anticipated for the B flat minor Sonata's first movement, as the music sometimes ran away from her.
Fortunately, she regained composure for the Scherzo, whose outer sections transpired with a feeling of one rather than three beats to the bar; and there was no navel gazing in the Trio, thank goodness. The Funeral March similarly walked rather than dragged, while Armellini emphasised the Finale's melodic trajectory over its gathering storm clouds. Overall, a fine recital, but I missed the playful bravura that Armellini displayed in her stunning first-round performances of the Op 10 No 4 Étude and Fourth Scherzo.
The Canadian J J Jun Li Bui put the Second Ballade together in symmetrical and sectionalised building blocks rather than flowing lines. He opened up into more expressive territory for the first three Op 24 Mazurkas, although his expertly turned rubatos never quite propelled the music forwards. Nor did this pianist's polished dispatch of the Rondo à la mazur match Miyu Shindo's litheness and wit from the day before. As with Bui's Second Ballade, his B minor Sonata struck me as an assemblage of meticulously worked-out sections, rather than a fluent, unified whole. Obviously Bui's formidable efficiency counts for something, otherwise he wouldn't have made it to the semi-finals. But he's not a particularly enlivening musician, at least at this early stage in his career.
No surprises concerning Michelle Candotti's semi-final recital, highlighted by a solid B flat minor Sonata that seemed more 'played in' and less tentative alongside Armellini's reading. Her Funeral March, for example, was slower, yet its firmer basic pulse and overall gravitas convinced me more. Perhaps Candotti's immaculate reserve in the Finale would loosen up under less pressured circumstances.
Vladimir Horowitz once said (and I'm paraphrasing here) that the trouble with young pianists is that they'll practise a piece 100 times, and when they go out on stage, the performance sounds like the 101st time. This came to mind during Yasuko Farumi's expertly prepared yet assembly-line virtuosity in the Introduction and Rondo in E flat major Op 16. Yet she found more to savour than Candotti in the three Op 59 Mazurkas, while offering more musical satisfaction than Bui in each of the B minor Sonata's four movements. The pianist hit her expressive stride with a gripping long-lined Largo, culminating in a Finale that brought heroism, delicacy and joy all together in one magnificent package.
Alexander Gadjiev's interpretation of the B flat minor Sonata has grown by leaps and bounds since he recorded it for his first solo CD back in 2016. The first two movements now burst from the starting gate and abound with forward sweep and fervent continuity. His Funeral March was far and away the day's best. The sombre left-hand chords and plaintive right-hand melody seemed to emanate from two different Kawai grands. On the main theme's reiteration Gadjiev built a majestic crescendo, complemented by a haunting diminuendo in the final bars. His handling of the enigmatic Finale stood out from his colleagues in its largeness of design and contrasted dynamics, not to mention some genuinely creative pedalling. He also plays the concluding chord in tempo, avoiding the emphatic and (in my opinion) provincial delay others favour. Gadjiev's virtues throughout the Sonata similarly informed his Polonaise-Fantasie and a moving rendition of the C minor Mazurka Op 56 No 3.
Gadjiev is not afraid to get down and dirty into the earthy dance of the C major Op 56 No 2. Here, by contrast, Avery Gagliano shaped the Mazurka rhythm with kid gloves, although her kinder, gentler conceptions of Op 56 hold their own validity. Her Scherzo No 2 skated on top of the keys, lacking tonal heft (one tell-tale sign: her casually defined upbeat triplets in the main theme). Next to Gadjiev's turbulent oil-based B flat minor Sonata canvas, Avery comes off as a mere water colourist, while Eva Gevorgyan is a charmless steel engraver, whose Funeral March plodded uphill.
One can only admire Gevorgyan's unswerving focus, determination, sheer will and streetwise competition sense. By the latter, I refer to her avoidance of going overboard in the F minor Fantasy's big moments, yet not undermining their inherent power. One could never imagine Gevorgyan trotting out unorthodox voicings and quirky tempos in the manner of Martín García García.
When this highly gifted pianist's frequent risks succeed (and most of them did this evening), they shed fresh light on familiar territory, drawing attention to the music first and to García García second. He strung the fleeting runs of the B minor Sonata's Scherzo into genuine bel canto lines, while keeping the Largo afloat and alive in every bar. He paid close attention to the Finale's bass lines, contouring them in nimble support of their decorative surroundings. I only hope that the audience (and the jury) had as much fun listening to García García's concluding F major Waltz Op 34 No 3 as he clearly did playing it!
Gramophone is a Media Partner of the 18th Chopin Piano Competition - you can follow the competition by watching the live stream at the chopin2020.pl - and visit us every day for more analysis from Jed Distler.