The Chopin Piano Competition, day four: highs, and a major discovery
Jed Distler
Thursday, October 7, 2021
Jed Distler continues his fascinating daily blog of the Warsaw event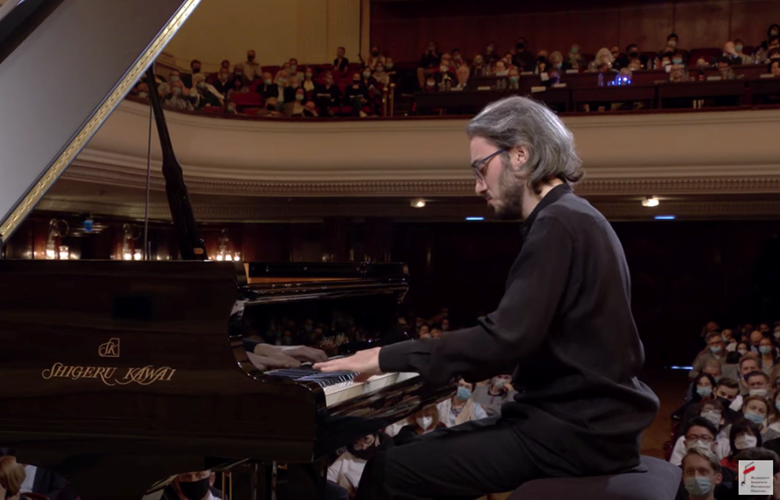 An uneven fourth day, artistically speaking, but the highs were high, while the evening round ushered in a major discovery. More on that below.
Having admired the elegant understatement of Chelsea Guo's recent recording of Chopin's Preludes for Orchid Classics, I was curious to hear this American pianist in the flesh. She coaxes dulcet, rounded sonorities from the Fazioli grand; her accomplishments as a vocalist obviously clearly inform her pianism. However, in the Barcarolle, Guo's taperings at phrase ends grew increasingly predictable and generic.
Eva Gevorgyan's sprint through the Fourth Scherzo's outer sections make nearly everyone else's sound thick by comparison, yet I missed the rhythmic core and architectural concentration that you can still hear in the teenage Vladimir Ashkenazy's stunning live recording from the 1955 Chopin Competition.
23-year-old Yasuko Farumi first came to my attention as a candidate in the 2015 Chopin Competition Preliminary Round. Most of her professional activity is based in her native Japan, including a solo debut CD release for the Nippon label that I haven't been able to source so far. Clearly she has evolved considerably. Compare her F minor Fantasy Op 49 from 2015 (still available on YouTube) to the ripeness of her imperfect yet fully engaging traversal this time around, and you'll hear what I mean. Farumi's beautifully proportioned, heartfelt performance of the Op 27 No 1 Nocturne also merits your attention.
The Italian/Crotian pianist Alexander Gadjiev's international profile is more of a known quantity, certainly among keyboard connoisseurs who followed his route to victory in this year's International Sydney Piano Competition. I had the good fortune to meet Mr Gadjiev a few weeks ago at Cremona Mondomusica. Over dinner we discovered our mutual admiration for Keith Jarrett's improvising genius. Gadjiev himself extemporises brilliantly. And as a Chopin-player, his improvisatory instincts and formidable analytic powers enliven everything he touches, abetted by a technique that knows no difficulties plus a keen ear for nuance and tone colour.
Far be it for me to second guess the jury, but I wouldn't be surprised if Gadjiev makes it comfortably into the next round. That said, Chopin represents a mere drop in the bucket of this pianist's tastes and eclectic repertoire. Do listen to his imaginatively vital recording of Schumann's Kreisleriana (issued in 2018 on the label Acousence), which holds its own alongside the usual suspects of Argerich, Horowitz, Perahia and so forth.
The morning session featured fascinating back-to-back comparisons. Avery Gagliano's small-scaled yet pearly toned style enchanted in the D flat Nocturne Op 27 No 2, but didn't quite rise to the G minor Ballade's heroic potential. But neither did the 2018 Cleveland International Competition winner Martín García García's G minor Ballade. Still, García García effectively probed this warhorse in quest of novel phrasings, pedal effects and dynamic shadings. Such chance taking resulted in more split notes that a jury might tolerate, but couldn't you also say that about Vladimir Horowitz's live performances of this piece?
García García opened his set with the cruelly exposed Études in A minor Op 25 No 4 and in C sharp minor Op 10 No 4. He played the former with an off-hand suppleness, while emphasising that latter's conversational character over its surface bravura. A pity that the pianist stumbled on the climatic peaks of the Op 55 No 2 Nocturne; otherwise, his remarkable polyphonic acumen helped sustain an unusually slow and hypnotic reading.
However, I had no inkling that a compact, dramatic and kinetically fervent G minor Ballade was about to shock me out of my seat. It featured 17-year-old Yifan Hou, who studies in Shanghai. Power, personality, style, technique, communicative immediacy and natural musicality: this kid has it all! In this context it was easy to undermine Junichi Ito's moments of rarified mastery, such as those gorgeous trills in the Op 62 No 1 Nocturne, or his ingratiating 'old school' arpeggiations in the Second Ballade's quiet first theme.
Gramophone is a Media Partner of the 18th Chopin Piano Competition - you can follow the competition by watching the live stream at the chopin2020.pl - and visit us every day for more analysis from Jed Distler.