The Chopin Piano Competition, day seven: stage two
Jed Distler
Monday, October 11, 2021
How are the remaining candidates approaching programming and pacing?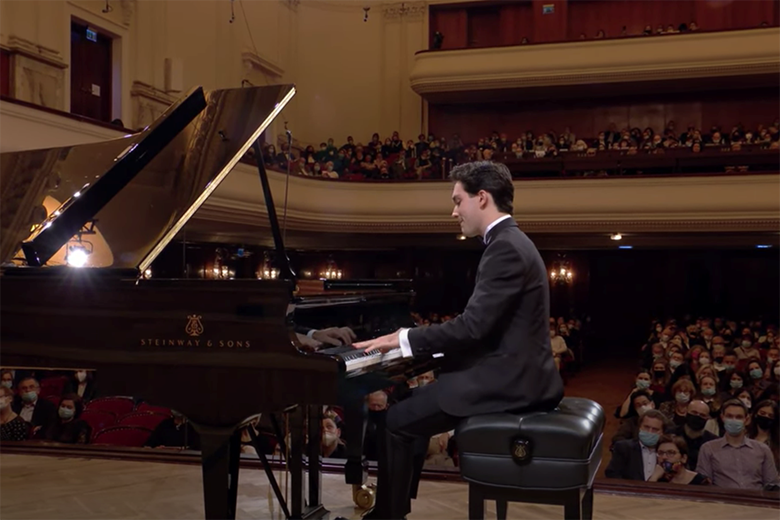 With additional stage time and repertoire options, it's fascinating to see how each second-stage candidate apportions their slots in terms of programming and pacing. Today's twelve candidates did so with variable results.
Viet Trung Nguyen's intelligently poetic and artistically mature first-stage performance augured well for his reappearance this morning. What an original idea to begin with the F sharp major Prelude from Op 28 and lead into the Barcarolle in the same key. Unfortunately, a few stumbles early on threw Nguyen off his game, and the hectic results spilled over into the F Major Waltz Op 34 No 3 and the Op 48 No 1 C minor Nocturne's agitated episodes.
Nor did Nguyen's A flat Polonaise Op 53 quite lock in, rhythmically speaking. I suspect Nguyen knew he was off form, why else would he perfunctorily dispatch the Polonaise's final measures? But hearing Georgijs Osokins, Evren Ozel and Kamil Pacholec perform again in succession confirmed my earlier impressions. Indeed, Osokins's sense of fantasy in the decorative early B flat Polonaise Op 71 No 1 and a pair of C sharp minor Mazurkas (Op 30 No 4 and Op 50 No 3) contrasted to Ozel's straightforward, impeccably groomed and rather regulation-model Fourth Ballade.
Since eight out of today's twelve candidates programmed the Andante spianato and Grande Polonaise brillante Op 22, and I couldn't resist comparing them. Going in order, Asenii Mun fared best in the Polonaise, building a nice momentum. Szymon Nehring's Polonaise fussed around too much. The 17-year-old Hao Rao ravishingly sang out the Andante spianato, while the sparkle and élan of his Polonaise elicited hearty and much-deserved applause.
Sohgo Sawada's Op 22 had good rhythm but not much swagger or scintillation; he tended to organise phrases in symmetrically predictable groupings. In a word, faceless. Conversely, Aristo Sham is a pianist with strong ideas and the wherewithal to communicate them. He cast a slow, dreamy spell in the Andante spianato, in contrast to his harder-hitting Polonaise, where the elaborate figurations took dancing shape with little aid from the sustain pedal. His interpretation overshadowed Miyu Shindo's generic 'one size fits all' ritards and bland musicality, not to mention her distracting facial grimaces and gesticulating arm movements.
Talon Smith's two utterly independent hands and acuity in rhythmic pointing stresses line over mass, evoking memories of Josef Hofmann's legendary 1937 Golden Jubilee performance. However, some viewers may lean more towards Kyohei Sorita's similarly conceived yet more rhetorically inflected and refined playing.
In an interview during this morning's session break, pianist Aimi Kobayashi explained the piano bench incident that real-time viewers witnessed on Friday. Ms Kobayashi sat down to begin her first-round performance, when she discovered that her bench was too low. She hesitated requesting a replacement. Eventually she did, but a higher bench apparently couldn't be located. Undaunted, the pianist's long experience and fierce concentration took hold, and she made it into the second round. Some Gramophone readers took me to task for describing her playing as impeccable yet cold. This interview revealed Ms. Kobayashi to be warm, friendly and extremely articulate. I certainly look forward to her second-stage performance on Tuesday October 12. No doubt she'll have a comfortable bench!
Gramophone is a Media Partner of the 18th Chopin Piano Competition - you can follow the competition by watching the live stream at the chopin2020.pl - and visit us every day for more analysis from Jed Distler.