The Chopin Piano Competition: October 16
Jed Distler
Sunday, October 17, 2021
Reflections on the last semi-final stages: catch up with our daily analysis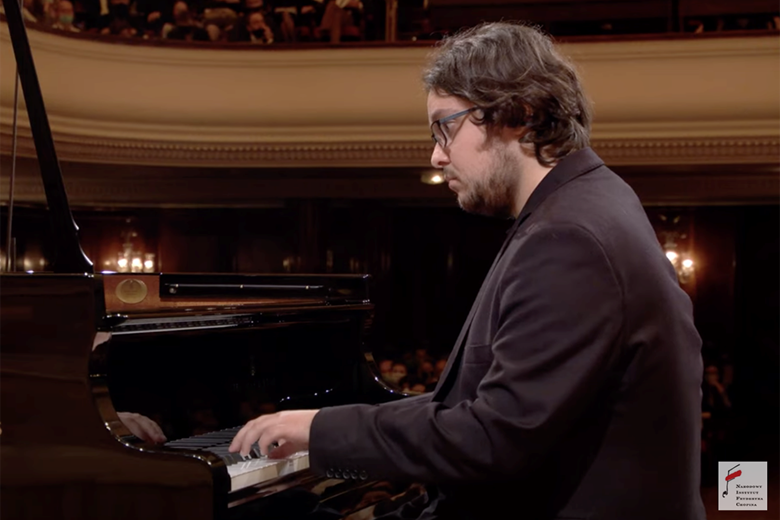 Chopin completed his Preludes Op 28 in 1838, during a visit to Majorca that ended up in disaster. In addition to bleak lodgings and no access to a decent piano, the bad weather aggravated Chopin's tubercular condition. 'The three most celebrated doctors on the island have seen me,' Chopin wrote to his friend Julian Fontana. 'The first said I was dead, the second that I am dying, the third that I am going to die.' Nevertheless, a masterpiece emerged that represents a microcosm of Chopin's revolutionary style and aesthetic.
Only three semi-finalists selected the Preludes cycle as their large-scale work option. Indeed, it takes a special pianist to convey each Prelude's individual character and sound world, while, at the same time, weaving them together into a unified whole. In this respect, yesterday's contender Piotr Alexewicz missed the mark. However, this morning, Aimi Kobayashi demonstrated an altogether higher level of control.
She works out each aspect of her interpretation to the proverbial nines. I'll elucidate this point by zeroing in on the sixteenth Prelude, the étude-like B flat minor. The relentless right-hand semi-quavers are supported by a steady left-hand accompaniment. The latter becomes more difficult in the second half, when Chopin doubles the bass notes in octaves. Kobayashi picked a tempo that honors the composer's con fuoco directive yet avoids speed traps. Her varied legato and detached articulations catch your ear. Also notice her canny way of ever so slightly holding back before a treacherous leap to ensure accuracy and minimise risk without sounding cautious.
The audience responded enthusiastically to Kobayashi's intelligent virtuosity, although I missed some of the spontaneous touches and volatile contrasts distinguishing her recent Warner Classics recording of Op 28. Kobayashi again overshadowed the same contestant who followed her in the second stage round, Mateusz Krzyzowski. The less said about his workaday, unimaginative and sometimes effortful Preludes, the better. However, his animated and flexible reading of the C Minor Op 56 No 3 Mazurka amounted to a masterclass in how to make bar lines disappear.
This morning's recitals also confirmed and fleshed out my previous impressions of Nikolay Khozyainov and Su Yeon Kim. Hearing their Chopin B minor Sonatas in close proximity was fascinating. Khozyainov has the big, golden sound and rhetorical projection one associates with Russian-school practitioners from Emil Gilels to Van Cliburn (the latter, an American of course, was referred to by a colleague as 'the greatest Russian pianist of his generation'). Kim, by contrast, goes for lightness and transparency. Compare their respective Scherzo movements and hear for yourself. Neither pianist, however, seems particularly interested in accentuating Mazurkas to idiomatic effect.
Two evening recitals featured the solo version of Chopin's early Variations on Mozart's 'Là ci darem la mano' Op 2. While the piece is essentially pleasing virtuoso fluff, the keyboard-writing's striking originality inspired Robert Schumann's oft-quoted 'Hats off, a genius!' review. The 21-year-old Korean-born and Moscow-based Hyuk Lee opened his recital with the Variations, most likely to display his technical portfolio before moving on to substantial musical matters. Not that it mattered, because nearly everything Lee plays sounds the same. He doesn't make magic. He doesn't make waves, nor take chances. He doesn't ever surprise you. But he certainly makes an attractive sound and plays all the notes to factory specifications.
Bruce (Xiaoyu) Liu did his best to channel Ignaz Friedman in the Op 33 Mazurkas, short of doubling bass notes in octaves or filling out octaves with chords. After a few miscalculated accelerations in the B flat minor Sonata first movement, Liu behaved himself in the Scherzo. He chose a good moderate tempo for the Funeral March and largely stuck with it, notwithstanding a few telegraphed fourth beats and shortchanged trills. It didn't come close to Alexander Gadjiev's shattering depth and concentration. Lastly, Liu glided over the rapid Finale octaves like an expert figure skater.
In contrast to Lee's bland efficiency in the 'La ci darem' Variations, Liu milked the introduction for all it was worth, and insouciantly pointed up each variation's technical challenge, as if they were characters in the opera without words. And what delectable changes in voicing and accent on repeated phrases. I kept thinking that some unscrupulous soul might take the audio soundtrack from this astounding performance, change the equalization, add 78rpm surface noise, and pass it off as a recording by a great Romantic pianist from the past!
I've tended to focus on pianists whose particular character traits, talents and quirks (or lack thereof) readily manifest themselves. Consequently, several 'dark horses' have nearly escaped my attention, such as Jakub Kuszlik. I rewatched Kuszlik's second-stage performance and quickly realised just how seriously I had underestimated him.
Kuszlik began his semi-final presentation with one of the competition's most cogent and fulfilling F Minor Fantasy readings. His vibrant, ruby-toned and delectably idiomatic Op 30 Mazurkas put Kobayashi's more contrived stylisations earlier today in their place.
Kuszlik's B minor Sonata similarly oozed naturalness in regard to shaping, pacing, feeling for nuance and tone coloor, tempo choices, rhythmic spring and, well, everything! He communicated passion without hysteria, contrapuntal interest without undue underlining, dynamic contrast without exaggerated extremes, and inner-voice motion borne out of the score rather than personal whim.
Despite the intensity of Kuszlik's crescendos, his tone never splintered or turned ugly, brittle or metallic. While the pianist brought tremendous excitement to the coda's glittering right-hand runs, he did not neglect the important left-hand countermelody underneath, as many pianists do. Indeed, Kuszlik is so musical that you only notice his remarkable virtuosity after the fact. He was born to play Chopin.
Gramophone is a Media Partner of the 18th Chopin Piano Competition - you can follow the competition by watching the live stream at the chopin2020.pl - and visit us every day for more analysis from Jed Distler.