The Chopin Piano Competition, October 17: which piano to choose?
Jed Distler
Monday, October 18, 2021
The competitors can choose from five pianos: how do they differ?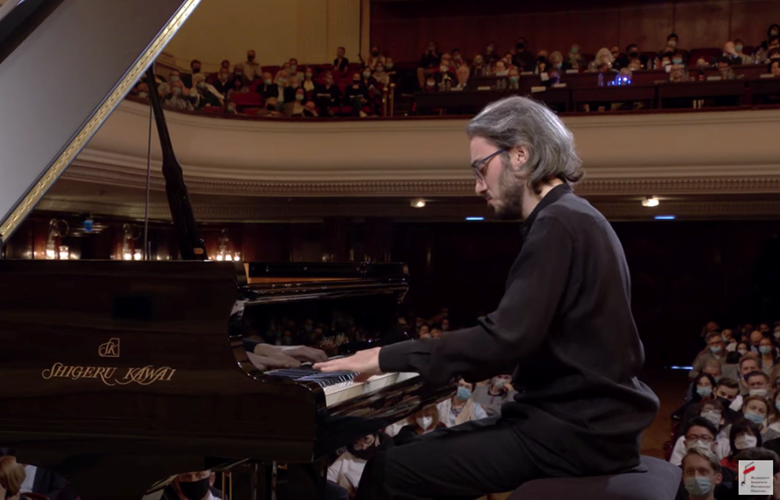 The 18th International Chopin Competition's twelve finalists have just been announced, and I'm happy to see that all of my favourite semi-finalists made the cut. I'll talk more about them tomorrow, but today we have a 24-hour breather with no performances. Yet I doubt that the chosen 12 are enjoying a day off; they're probably off practising as we speak.
If you've been following the competition from the start, you'll have noticed various grand pianos being wheeled back and forth on and off stage. There are five pianos in all: a Yamaha, a Kawai, a Fazioli and two Steinways.
Each candidate gets a 15-minute time slot to choose one of the pianos to perform on in the rounds. Once they decide, they must stick with their choice. No changing horses midstream.
Among the first round's 87 contenders, 64 opted for a Steinway: 43 chose the Steinway with serial number 470; 21 picked serial number 300. Nine pianists selected the Yamaha, and eight picked the Fazioli.
The Kawai proved least popular, with only six takers, including the finalist Alexander Gadjiev. Since Gadjiev performed on a fresh new Fazioli a few weeks ago at the Cremona Mondomusica, I asked him about his choice.
'It was the Kawai piano's ability to melt sonorities and create big pictures that fascinated me,' Gadjiev explained. 'It is perhaps not as orchestral and grand as a Steinway, but it has a great watercolour palette of sounds and this ability of intertwining registers. To be sure, it doesn't 'say' everything; sometimes it just alludes to something. Yet this somewhat vague quality finds a perfect match in my way of seeing Chopin.'
By contrast, Talon Smith, who made it through to the second round, is a young Steinway artist, and swears by its clarity and definition, as well as what he considers to be 'the most natural action of all the piano brands currently on the market'.
However, Smith wanted to hear the different pianos for himself before making a final decision.
'The night before my 15-minute time slot for piano selection, I listened to others try the pianos. That confirmed my prediction that the Steinways would sound better,' Smith recalled. 'I then used my time slot to choose between the two Steinways.'
Smith found both models equally beautiful, with their own strong points. 'No 479, for example, has a brighter sound that projects readily. But its tone variation felt slightly limited. So I ended up picking the 300, because I found that it yielded more easily a wide range of tone colour: not only bright sound when needed, but also more sensitive sound.'
However, does the question of sound lie more with the performer than with the instrument?  When the eccentric Hungarian pianist Ervin Nyiregyházi insisted on recording Liszt on a Baldwin grand that had seen better days, he claimed that 'it is I who makes the sound, not the piano'. On the other hand, Arturo Benedetti Michelangeli demanded the utmost from his painstakingly maintained Steinways, constantly testing his technicians' patience; the legendary pianist reportedly claimed that there is no piano in the world good enough for Ravel's Gaspard de la nuit.
Consider the Yamaha for a moment. Georgijs Osokins obtained huge, colourful sonorities from it during his first and second rounds. By contrast, Tomoharu Ushida's gaunter, line-orientated pianism yielded an entirely different sound world. Perhaps the pianists' seating positions were a factor: Osokins sat quite low, while Ushida sat higher.
Steinway No 479 also sounded like different instruments in various hands. Marcin Wieczorek and Michelle Candotti both conveyed lean definition in their respective sonorities. By contrast, the instrument's potential for colour and nuance opened up a thousand-fold as Jakub Kuszlik worked miracles throughout his unforgettable Chopin B minor Sonata.
In addition to the Fazioli's subtle timbral differentiation between registers, the instrument has a tactile immediacy and responsiveness that contrasts with the more palpable resistance or 'grip' found in the kind of Steinways that pianists like Arthur Rubinstein favoured. Consequently, the Fazioli takes some getting used to for a pianist to control it comfortably, while still maintaining individuality. The three Fazioli finalists clearly have no problems doing so, as evident in Leonora Armellini's full-bodied legato phrasing, Martín García García's cornucopia of inner voices, and Bruce (Xaioyu) Liu's pearly right-hand runs.
How these pianos and pianists project with a full orchestra is another story, which we will follow in the final-round concerto performances. Watch this space …
Gramophone is a Media Partner of the 18th Chopin Piano Competition - you can follow the competition by watching the live stream at the chopin2020.pl - and visit us every day for more analysis from Jed Distler.