The Chopin Piano Competition: the Final continues
Jed Distler
Wednesday, October 20, 2021
Four finalists choose their concerto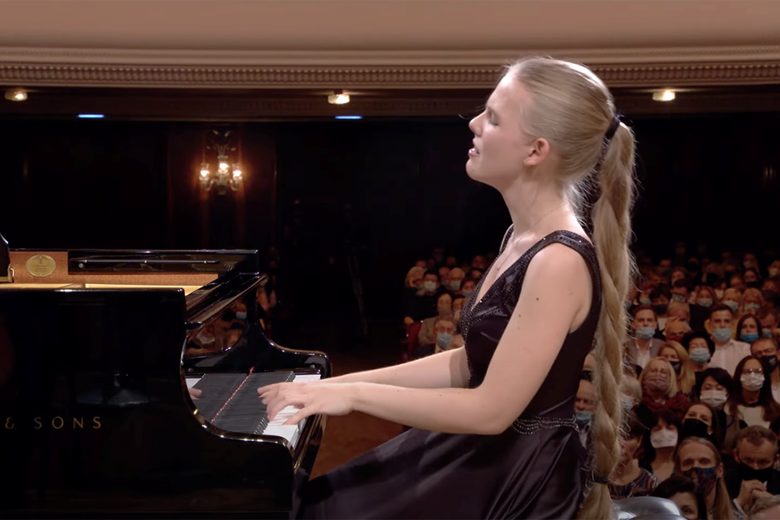 For the Chopin Competition's final round, each candidate is required to play one of the composer's two piano concertos. Most finalists favour Concerto No 1 in E Minor over Concerto No 2 in F Minor for the simple reason that the First Concerto's outer movements are flashier, and more display orientated. Furthermore, every Gold Medalist from the past 60 years played the E minor, with one exception: jury member Dang Thai Son in 1980. I prefer the musically superior F minor Concerto myself, and not just because of its devastatingly expressive slow movement.
Be that as it may, tonight's finalists offered an E minor / F minor split. In the E minor first movement, J J Jun Li Bui played the lyrical passages with an almost uniform expressivity characterised by diminuendos at phrase ends. Alternately, the pianist ploughed through Chopin's bravura writing like the proverbial horse with blinders. He played the Romanze's notes and shaped its phrases by the book, but with no instinct for the music's bel canto sensibility, let alone any palpable tension and release. His facile fingers similarly operated on a uniform, machine-like level throughout the Rondo. Even that magical moment when the main theme reappears an unexpected half-step lower in E flat major went for nothing.
The Kawai grand recovered from its bout with JJ Jun Li Bui in time to be coddled, seduced and beautified by Alexander Gadjiev in the F Minor Concerto. He illuminated the opening Maestoso movement's salient points by executing decorative passages in tempo, while demarcating melodies with discreet rubato and sophisticated accentuation. Gadjiev's seamless legato and multi-leveled dynamic control transformed the Larghetto into an aria where the piano's hammers seemed to have replaced by lungs. And the Allegro vivace's major key coda acquired a brighter patina than usual through Gadjiev's miniscule yet noticeable quickening of the tempo.
In contrast to his impetuous, risk-taking solo performances throughout the competition, Martín García García seemed held back on a leash throughout the F minor Concerto's Maestoso, although he relaxed more in the remaining movements. Perhaps García García wanted to show the jury that he could play with classicism, symmetry and restraint. The playing was lovely by any standard, yet I expected more adventurousness to rival Gadjiev's penetrating interpretation.
Following the Warsaw Philharmonic's best performance thus far of the opening ritornello of the E minor Concerto's first movement, Eva Gevorgyan took full, authoritative charge of the solo part. Her articulation had all of the point and specificity one could wish for. The marble patina of her sonority at all dynamic levels evoked memories of notable Russian luminaries like Emil Gilels and Bella Davidovich. Even Gevorgyan's fast playing never seemed hurried, nor did it strive for effect. Each and every note counted. Frankly, nothing in Gevorgyan's earlier competition rounds prepared me for a performance of such eloquence, nobility and substance. I now hear what the jury hears in this pianist.
Gramophone is a Media Partner of the 18th Chopin Piano Competition - you can follow the competition by watching the live stream at the chopin2020.pl - and visit us every day for more analysis from Jed Distler.