The Chopin Piano Competition: the Final Round, Part One
Jed Distler
Tuesday, October 19, 2021
Our daily analysis continues as the competition draws towards the finale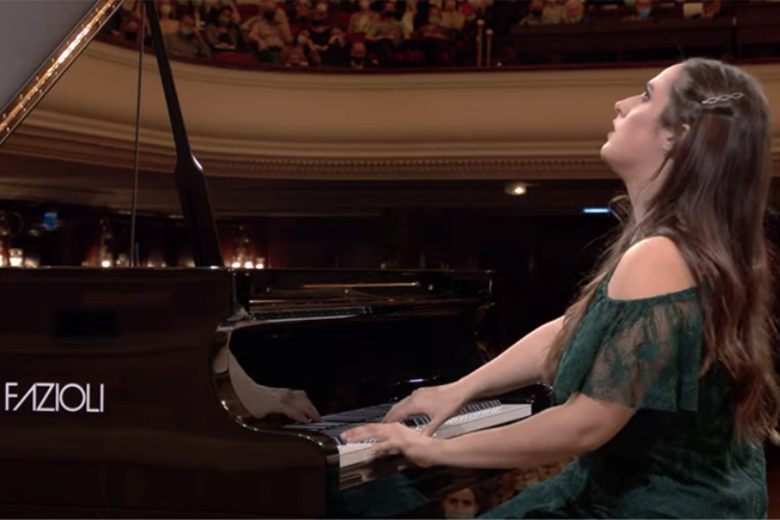 Judging from the 18th Chopin Competition's list of finalists, it appears that the jury is not looking for a particular 'type' of competitor. Indeed, the 12 candidates who progressed to the final cover a wider breadth of styles and approaches than I've noticed in previous Chopin Competitions.
Inevitably, some people's favourites didn't make the final cut. In particular, several readers expressed their disappointment over the elimination of semi-finalists Szymon Nehring and Nikolay Khozyainov.
The former won the 2015 Chopin Competition's audience favourite award, and he's certainly a communicative and sincere artist. But for me, Nehring's edgy, restless qualities get in the way; his fussy rubatos throughout the Grand Polonaise brillante Op 22 were a case in point. You can't deny Khozyainov's huge golden sound and elemental force. Overall, however, he's not an especially subtle musician. His sectionalised approach to the B minor Sonata frequently belaboured the obvious.  And what about his wilful, distorted B minor Waltz Op 69 No 2, which made Liberace sound like Maurizio Pollini by comparison?
Although J J Jun Li Bui, Hyuk Lee and Eva Gevorgyan made the finals, I haven't found their performances musically enlivening or particularly special. Still, their high pianistic prowess and performance savvy deliver uniformly consistent and dependable results. Maybe that's what presenters, artist managers, publicists and music directors are looking for.
However, the jury evidently deemed Martín García García's individual if erratic brand of pianism to be worthy of the finals. As I've previously stated, García García is a man of ideas, and he constantly takes chances. Not all his interpretations enthrall me, to be sure, yet they hold my attention. That said, finalist Alexander Gadjiev's individuality yields more focused and polished performances, clearly resulting from immense preparation and forethought, yet Gadjiev always manage to sound spontaneous and in the moment.
If Gadjiev is a thinker and explorer, Bruce (Xiaoyu) Liu wins this competition's Entertainer of the Year award, evoking Shura Cherkassky and Georges Cziffra in a single breath. Liu's vividly detailed and amazingly insouciant 'La ci darem' Variations frankly wiped the floor with Hyuk Lee's performance of the same piece.
We'll find out soon enough if the scope of Liu's gifts extends beyond showpieces. However, for multi-leveled pianism, intelligent musicianship and artistic maturity, Jakub Kuszlik's Chopin B minor Sonata deserves not only its own Gold Medal, but a seat to the left of Dinu Lipatti and the right of William Kapell.
The old cliché 'opposites attract' applies to the finalists Aimi Kobayashi and Leonora Armellini. In terms of pianism, temperament and musical outlook, Armellini relates to Alicia de Larrocha as Kobashi does to Mitsuko Uchida or Krystian Zimerman. I was thoroughly captivated by Armellini's warm and soaring tone, natural musicality, spontaneity and unalloyed joy in just being at the keyboard. By contrast, Kobayashi's body language defines goal-oriented determination, with nothing left to chance. At its best, however, her music-making coveys formidable impact.
Although Kamil Pacholec, Hao Rao and Kyohei Sorita haven't beckoned my attention to the extent of the other finalists, their solo performances over the past two weeks were uniformly world-class. Among their respective turns this evening in the E minor Concerto, Rao's effervescent and nimble Rondo stood out, although Sorita's variegated turns of phrase, subtle transitions and wider dynamic range demonstrated an altogether higher level of pianistic cultivation. Perhaps Pacholec's steady, smaller-scaled interpretation, which opened the evening's proceedings, split the difference; I liked the little kick to his slight accelerations in the Rondo's main theme.
However, no one sang out the rapid runs quite like Armellini, nor adjusted their phrases to comparable chamber-like effect when first-desk orchestral players had solos. Perhaps the Rondo's coda didn't sparkle so brightly as expected. Yet when does one ever hear the soloist blend so sensitively with the central Romanze's prominent bassoons in a Chopin Competition? Armellini truly listened to her fellow musicians, and in the end this made her solo contributions all the more memorable and meaningful.
Gramophone is a Media Partner of the 18th Chopin Piano Competition - you can follow the competition by watching the live stream at the chopin2020.pl - and visit us every day for more analysis from Jed Distler.