An American violinist triumphs in the 2023 Global Music Education League Competition
Thursday, November 16, 2023
Following a four-year pandemic-enforced break, the Beijing-based competition returns with the focus on the violin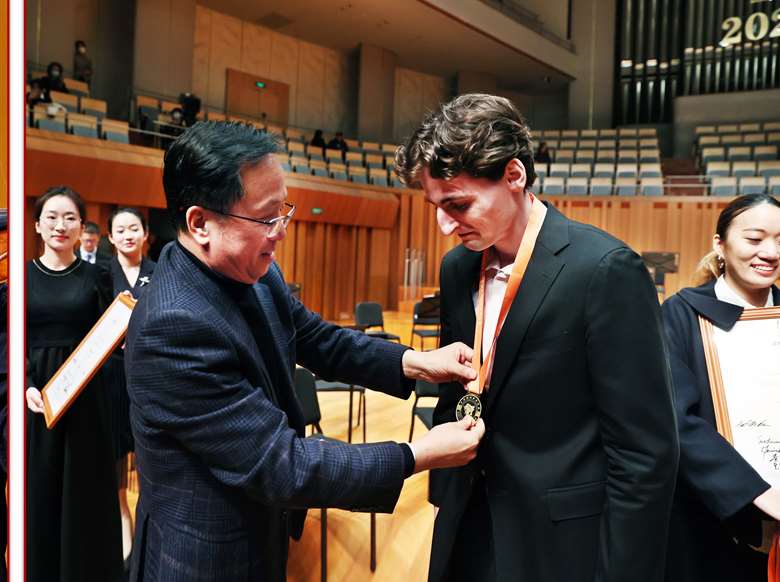 The American violinist, Joshua Brown, wins the 2023 Global Music Education League Competition in Beijing. The 24-year-old is currently pursuing his Master of Music with Donald Weilerstein at the New England Conservatory of Music. His Gold Medal includes $100,000 as well as international management and tours.
Brown played the Brahms Violin Concerto in the Final, with Philadelphia Orchestra and China Conservatory Symphony Orchestra under Tristan Rais-Sherman at the National Centre for Performing Arts, to secure his win. (He played the same work, aged 15, with The Cleveland Orchestra to great acclaim.)
The 22-year-old American violinist Elli Choi won the Silver Medal and $65,000 following her performance of the Sibelius Violin Concerto, and the Jade Medal and a $30,000 prize went to 22-year-old Chinese violinist Chaowen Luo.
Joshua Brown's win in Beijing adds another prize to an already impressive CV: he won First Prize and Audience Award at the 2019 International Violin Competition of Leopold Mozart in Augsburg, Austria; Second Prize and Audience Award at the Cooper International Violin Competition and Gold Medals at both Fischoff and M-Prize Chamber Music Competitions.
The Global Music Education League Competition returns after a four-year absence, caused by the pandemic, and is organised in collaboration with the China Conservatory of Music. (The competition is designed to be annual, with disciplines of piano and violin alternating. The First China International Music Competition in 2019 was dedicated to the piano.)
This year's jury comprised nine violinists: Bin Huang (Chairman), Giovanni Angeleri, Fridemann Eichhorn, Lorenz Nasturica-Herschcowici, Mariusz Patyra, Lucie Robert, Joel Smirnoff, Weidong Tong and Pavel Vernikov.
The Competition is open to musicians aged between 16 and 30, and brings together outstanding musicians from all over the world to compete and collaborate with the world's top orchestras and music institutions to build the highest level of exchange and exposure for generations of young musicians.