Graham Pauncefort, CRD's founder, has died
Thursday, January 6, 2022
Born June 24, 1940; died December 31, 2021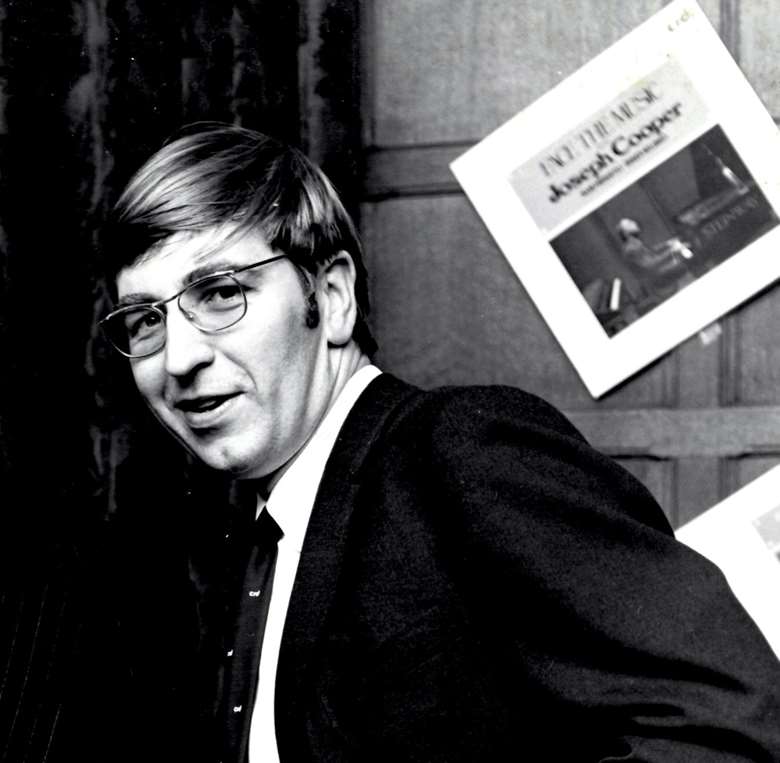 Graham Pauncefort, who founded the CRD label, has died at the age of 81. Raised in Stanmore in North London, Pauncefort attended St George's, Harpenden where he developed a keen interest in music. One day, shortly after leaving school he called into the London offices of DG to return a faulty LP (Ferenc Fricsay's Pathétique) and casually asked if they had any jobs. A few weeks later DG's UK Managing Director, Dr W Riemer, got in touch, which led to an interview and to a job in sales, dealing with wholesalers. (His love of music was enriched during these important years for the Yellow Label, and two recordings, made in London for DG by Soviet artists – and the sessions for which he attended – made a huge impression on the young Pauncefort: Yevgeny Mravinsky and the Leningrad Philharmonic in Tchaikovsky's Symphony No 4 and a solo recital by Sviatoslav Richter.)
During his trips to see record dealers he was often asked about European and American labels and whether DG could help – it couldn't – and so the seeds for a new distribution company were sown. Continental Record Distributors was established in January 1965 to import and distribute Continental and American catalogues. Erato was the first label that the new company, based in Bond Street, would distribute. In 1969, CRD moved its operations to Dean Street in Soho, though often sales were made from the back of a van – the dealers would come out of their stores and choose the albums they wanted to stock.
As the company grew it was a logical step for CRD to start making its own recordings. In December 1973, the first CRD albums, masterminded by Simon Lawman, were released and quickly garnered fine reviews thanks to the company's shrewd A&R and good taste (among the first CRD releases, reviewed in Gramophone's March 1974 issue, was a harpsichord and virginals recital played by Trevor Pinnock, then still in his mid-twenties, and an album by Joseph Cooper of the popular BBC TV programme 'Face the Music' fame). Other early releases included the piano music of Enrique Granados, then very under-represented in the catalogues – Pauncefort decided to make his own recordings and Thomas Rajna was engaged. Soon CRD was recording the Chilingirian Quartet, Hamish Milne, The Nash Ensemble, Paul Crossley and the Choir of New College Oxford conducted by Edward Higginbottom (who would go on to make 30 recordings for the label which embraced the entire history of English choral music).
In many ways Pauncefort was a pioneer; he managed the transitions in formats with skill and also had an innate feel for changing musical tastes. CRD was the first company to record Vivaldi's Four Seasons on period instruments (Simon Standage with The English Concert and Trevor Pinnock). His 1979 album 'Balloons' (soon to be reissued) gathered around The Nash Ensemble the singers Benjamin Luxon and Robert Tear with narration by Brian Cant and music by Ernest Kaye specifically for children. And he was instrumental in recording Robert Farnon's Concorde March, commissioned by British Airways, to celebrate the inaugural journey of the first UK-built Concorde, which flew from Filton, near Bristol, to RAF Fairford on April 9, 1969. The composer himself conducted the LSO (a recording reissued two years ago on the 50th anniversary of that flight).
Pauncefort moved to Cornwall in 1999 and remained closely involved with CRD – whose catalogue now numbers 200 releases – until ill health caused him to step back from day-to-day running. His daughter Emma joined him in 2016 and son Tom, most recently in 2020. Together, they are continuing the work begun under the close supervision of their father to maintain many of the close artistic relationships he had forged – such as with the pianist Virginia Black, the Chilingirian Quartet, or Edward Higginbottom as one of the co-founders of the Oxford-based ensemble Instruments of Time and Truth whose recording, 'Ceremonial Oxford', with the Choir of Keble College, of music by William Hayes was warmly welcome by Gramophone in 2018 (the relationship between Keble and CRD continues under Paul Brough).