Gramophone Podcasts pass the half million mark
Tuesday, May 18, 2021
The stars come out for Gramophone every Friday and you've been listening in your hundreds of thousands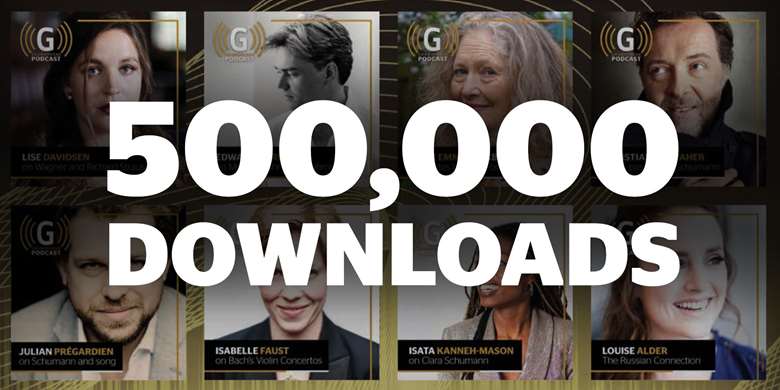 Gramophone Podcasts have passed the 500,000 download milestone. Posted every Friday, we talk to the leading musicians of our time about their art and particularly their work in the studio. And if you're not one of our regular listeners, why not give us a try? Simply search for 'Gramophone Magazine' in your Podcast app of choice, or visit Gramophone's page on Apple Music podcasts. 
Hosted by Gramophone's Editor Martin Cullingford and Gramophone's Editor-in-Chief James Jolly, our podcasts have welcomed performing stars like Alfred Brendel, Joyce DiDonato, Sir Antonio Pappano, Dame Emma Kirkby, Dame Janet Baker, Dame Kiri Te Kanawa, Stephen Hough, Benjamin Grosvenor and Nathalie Stutzmann, and composers like Anna Clyne, Gabriel Prokofiev, Max Richter, Eric Whitacre, Mark Simpson and Raymond Yiu. Also popular are our 'in-house' conversations about our favourite albums of the year, the contending ensembles for our Orchestra of the Year Award, as well as a number of other Awards-related discussion by our editors and critics.
In the 12 months from May 2020 to the end of April 2021, Gramophone published 56 podcasts resulting in 196,858 downloads of which 72,442 were accessed in the US, followed by the UK, Canada and Australia. Germany is our largest non-English-speaking territory. About half of all podcasts are delivered through Apple Podcasts (90,904).
Below are half a dozen of our most popular artist podcasts, followed by some of those we most enjoyed making.