Public vote opens for Gramophone's Orchestra of the Year 2023
Monday, June 12, 2023
Winner to be revealed at the annual Gramophone Awards ceremony, taking place at London's De Vere Grand Connaught Rooms on October 4, 2023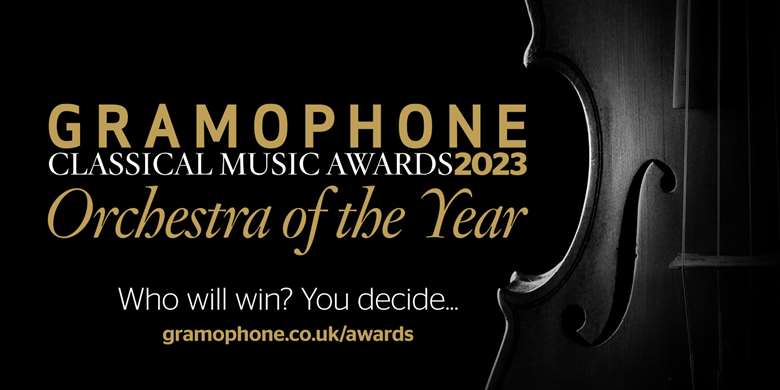 We are delighted to reveal the 10 ensembles nominated for Orchestra of the Year for this year's Gramophone Classical Music Awards. The only award decided by public vote, this prestigious accolade highlights ensembles who have produced exceptional recordings over the last year.
Recognising collaborative music-making at the highest level and the creative magic at the heart of orchestral music, this is the sixth consecutive year in which the public have been invited to vote for Orchestra of the Year. The award has previously celebrated orchestras from across the globe, including last year's winners the Budapest Festival Orchestra, the Minnesota Orchestra (2021), the Philadelphia Orchestra (2020), the Hong Kong Philharmonic (2019) and the Seattle Symphony Orchestra (2018).
The nominations for the 2023 Awards are:
BBC Philharmonic (UK)
Berliner Philharmoniker (Germany)
Chicago Symphony Orchestra (USA)
Le Concert des Nations (Spain)
Danish National Symphony Orchestra (Denmark)
Deutsche Kammerphilharmonie Bremen (Germany)
Finnish Radio Symphony Orchestra (Finland)
London Philharmonic Orchestra (UK)
Orchestre de Paris (France)
National Symphony Orchestra (USA)
The nominees have been chosen by Gramophone editors and reviewers based on the orchestra's recording work over the last 12 months, including impressive accounts of a wide range of repertoire. From hidden gems such as the music of African-American composer George Walker and Danish composer Rued Langgaard to interpretations of Schubert, Stravinsky, Shostakovich and Haydn, the nominees' recordings showcase a rich and vibrant classical music landscape.
Voting is open now and remains open until 8am on Thursday, September 7. 
To showcase the nominees and help voters choose, we have created exclusive Apple Music playlists for each ensemble, featuring recent recordings as well as treasures from their back catalogues, as well as a regularly updated playlist featuring all 10 orchestras. The playlists can be heard on Apple Music and found on Gramophone's website.
The winner will be revealed on Wednesday 4 October at the 2023 Gramophone Classical Music Awards, in a glittering ceremony at London's De Vere Grand Connaught Rooms, in the year that Gramophone celebrates its centenary. In addition to Orchestra of the Year and the recording category winners, other special awards will also be announced on the night including Artist of the Year, Young Artist of the Year, Label of the Year and the coveted Recording of the Year. Featuring performances from the London Mozart Players as well as Award winners past and present, the Awards ceremony is an eagerly-anticipated celebration of the classical recording industry.
Find out more about the nominated orchestras here: gramophone.co.uk/awards
To vote, follow this link, or use the voting form below: