Recordings of the Year 2020
Friday, December 11, 2020
Explore the year's most outstanding classical albums in our FREE digital magazine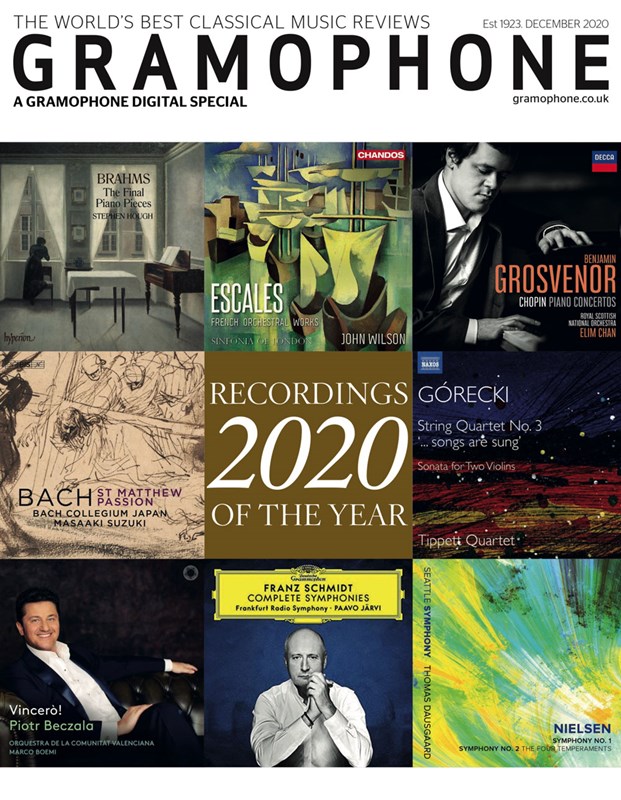 It's become a Gramophone institution, our annual Recordings of the Year free digital magazine is the ultimate guide to the most compelling and beautiful classical releases of 2020. This year the digital magazine comes complete with links to Apple Music so that you can listen to the albums as you discover them. Visit Exact Editions to enjoy the digital magazine: Recordings of the Year 2020
Editor-in-Chief James Jolly introduces Recordings of the Year 2020:
The year 2020 is not one any of us will ever want to repeat, it having wrought devastation throughout the world. And in our corner, the fall-out of the pandemic for musicians has been disastrous. Heard live in our concert halls and opera houses, as it was envisaged, hardly a note sounded for months. As for recorded music, we've all reached for our CD players, computers and phones, and consumed it as never before. As at all times of emotional, political, personal or spiritual upheaval, music has nourished us in ways that are hard to articulate.
Of course, many musicians have found amazingly inventive and creative ways of continuing to make music under really challenging circumstances. For Gramophone and its critics, our monthly challenge – to listen to, and weigh up, the merits of the huge number of new and reissued recordings – didn't really change. Our modus operandi may have altered – very few packages of CDs were despatched as a wholehearted embrace of the 'non-physical' was forced upon our international panel of critics – but the task of assessing and articulating in words the message and meaning of music continued as it has for near on a century (2023 will see Gramophone's 100th birthday).
This special digital magazine, now a regular part of our annual production schedule, celebrates the 130 recordings that were selected as Editor's Choices in the 13 issues of Gramophone we produce every year (the Awards, held each autumn, provide the impetus for the 'extra' issue over and above the 12 monthly magazines). Talking of the Awards, we were not going to be forced by events into cancelling or postponing our annual celebration. Joined by that wonderful mezzo Kate Lindsey, I headed to Glyndebourne and, on a gloriously hot summer's day, we filmed the skeleton of the show into which acceptance speeches and performances could be dropped. The resulting two-hour Awards programme – streamed by Medici TV, and on Gramophone's Facebook and YouTube channels, was something we were enormously proud of, and our gratitude to our partners, Apple Music and E Gutzwiller et Cie, Banquiers as well as a host of individual sponsors and partners, is immense. And as I write, over 330,000 people have watched the programme (which remains available to view until January 4, 2021). We've added our coverage of the Award-winning recordings to this digital magazine (starting on page 30). Do check it out, it's a quite astoundingly impressive collection of recordings, and, added to those 130 monthly choices, makes for a pretty mind-boggling snapshot of the finest music-making of our time. 
Now, enjoy: Recordings of the Year 2020