The 2022 Carl Nielsen International Competition announces its winners
Sunday, April 10, 2022
Two violinists tie for first place, making four winners in total - watch the finals here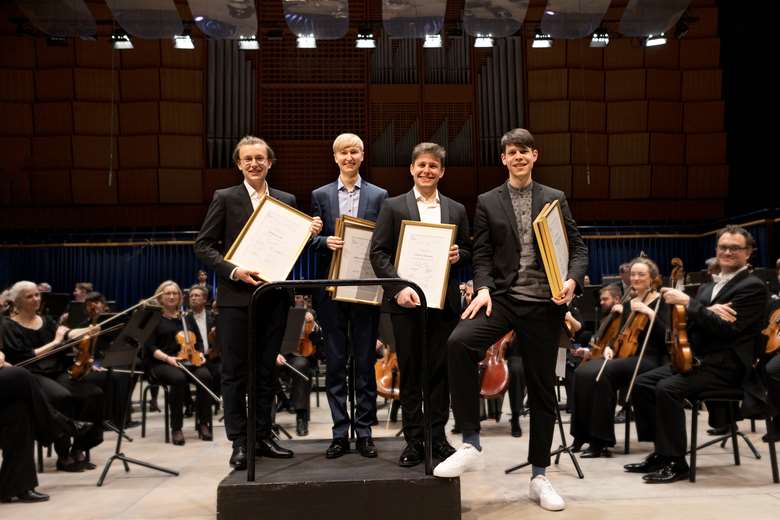 The Carl Nielsen International Competition, which took place in Odense, Denmark, ended on Sunday evening (April 10) following a series of hotly contested finals and the winners in the three categories (violin, clarinet and flute – the instruments Nielsen wrote concertos for) were announced.
Tying in first place in the Violin category were the Estonian Hans Christian Aavik (23) and the 17-year-old Ukrainian Bohdan Luts. Aavik played the Tchaikovsky Violin Concerto at the 'Pre-Final' while Luts chose the Sibelius; both played the Carl Nielsen Concerto at the Final. Luts proved a superb and inspiring, if yet unfinished, musician and clearly won many hearts in Odense. The South Korean Eun Che Kim (24) was placed third. The violin jury was chaired by Noah Bendix-Balgley, First Concertmaster of the Berliner Philharmoniker. (This is second time in recent competition history that there was a tie: Jiyoon Kim and Liya Petrova shared First Prize in 2016.)
In the Flute category – the jury of which was chaired by Karl-Heinz Schütz, First Solo Flute of the Wiener Philharmoniker – two Spaniards were in contention, with the final line-up going: First Prize to Alberto Navarra (24); Second Prize to the Korean Seohyeon Kim (20) and Third Prize to Alberto Acuña Almela (26).
In the Clarinet category – with legendary clarinet teacher Yehuda Gilad presiding over the jury – the First Prize went to another Ukrainian, Oleg Shebeta-Dragan (27). Second Prize went to Ann Lepage (25) from France and Third Prize to Panagiotis Giannakas (21) from Greece.
The winners of the Competition go home with a selection of prizes. There's a monetary reward – for the first prize winners, €12,000 as well as the chance to make a recording, worth €13,000, for Orchid Classics. And the winner will also have guaranteed solo appearances with a number of Nordic orchestras. The second prize winner will receive €10,000 and the third prize winner will receive €7,500. The two violin winners each reached a bow, donated by Ulf Eriksson Violiner of Copenhagen, and made by Duncan Emck.
The Carl Nielsen International Competition, which takes place every three years, is led by its President, the violinist, and former Competition laureate, Nikolaj Szeps-Znaider, who conducted the Copenhagen Philharmonic in the Violin Pre-Final. The other orchestra was the Odense Symphony Orchestra who played for many of the rounds including the Prize-giving Ceremony. 'The Carl Nielsen values of Excellence, Curiosity, Individuality and Community,' Szeps-Znaider said, 'are the essence of what we strive to achieve in this competition and it is clear that Odense creates that special environment for young musicians to flourish. We wish every participant the very best for the future.'
The Carl Nielsen International Competition was live streamed and you can watch the final rounds, archived, on the Competition's website and here at Gramophone, below:
 Gramophone is a Media Partner of the 2022 Carl Nielsen International Competition