Three finalists compete for top spot at Honens
Wednesday, October 26, 2022
Rachel Breen, Sasha Kasman Laude and Illia Ovcharenko will compete to win the 2022 Honens International Piano Competition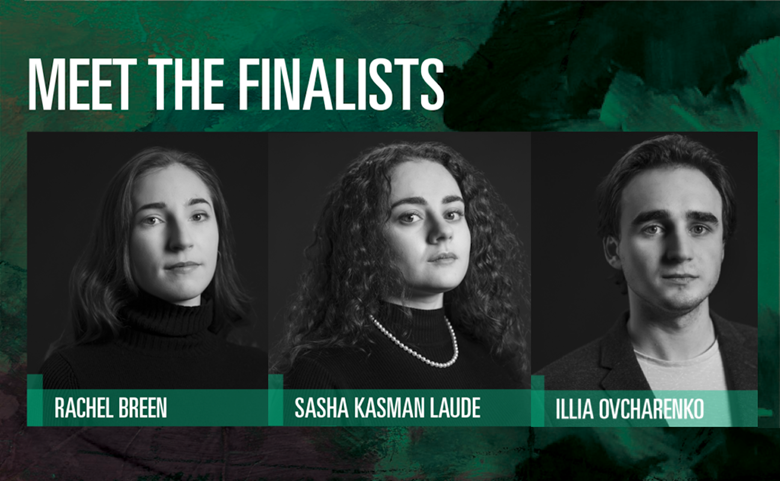 The Honens International Piano Competition has announced that Rachel Breen (United States / age 26), Sasha Kasman Laude (United States / age 27), and Illia Ovcharenko (Ukraine / age 21) have advanced into the final round of the Honens Competition's 10th edition.
Breen, Kasman, and Ovcharenko arrived along with seven other 2022 semifinalists in Calgary last week to compete for one of the world's largest and most respected prizes in classical piano — $100,000 CAD and a comprehensive, three-year artistic and career development programme. Each pianist competing in the semifinals and finals advanced through the quarterfinals in Frankfurt and NYC. The competition is held in Calgary, but you can watch the semifinals on-demand and catch the livestream of the finals free of charge on Honens's website or IDAGIO's Global Concert Hall.
The 2022 semifinalists and finalists are judged by a panel of jurors including Michel Béroff, Earl Blackburn, Katherine Chi, Imogen Cooper, Stewart Goodyear, Ick-Choo Moon, and Orli Shaham. The rigorous semifinals consisted of two separate rounds. The first round was a 65-minute solo recital which included a newly commissioned work by Canadian pianist and composer Stewart Goodyear. 
The second round was made up of a 60-minute solo and collaborative recital which included one of Beethoven's 10 violin sonatas, one piece from Fritz Kreisler's Alt-Wiener Tanzweisen, and solo repertoire to complete the programme. This second round is where Honens's ethos as proponents of 'complete artists' – pianists who are more than virtuosos – really shines. Some pianists used this solo space to perform one or two works near and dear to their hearts. Rachel Breen used this opportunity to perform a myriad of miniature compositions back to back; her creative programming was truly show-stopping.
While the semifinal rounds have certainly been the main events so far, attendees have also enjoyed masterclasses and Honens's first-ever Mind Over Music mini-symposium. Hosted by 2018 Honens Prize Laureate, Nicolas Namoradze, Mind Over Music explored a range of questions surrounding music competitions in the 21st century. Events, which can be viewed here, included two panel discussions, a workshop, and a lecture demonstration that touch on such topics as performance psychology, mindfulness, mental health, aesthetics, and neuroscience.
Looking ahead to the finals, each finalist performs in two separate rounds and undertakes a 30-minute interview with an arts journalist. On October 27 at 7:30pm (MT), the three finalists each perform a chamber music recital that includes a Mozart concerto with the Viano String Quartet and Sam Loeck (bass) and a selection of Schubert Lieder with mezzo Krisztina Szabó. The second round, held on October 28 at 7:30pm (MT), is incredibly open – the finalists have the opportunity to perform any concerto composed after 1791 with the Calgary Philharmonic Orchestra and guest conductor Jeffrey Kahane. The awards ceremony follows the second round of finals on the October 28 and an audience favourite award will also be presented.
Watch the livestream of the finals free of charge on Honens' website or IDAGIO's Global Concert Hall.