A powerful new musical alliance is announced for San Francisco
Wednesday, October 21, 2020
A unique partnership between a major Conservatory and an internationally renowned artist management company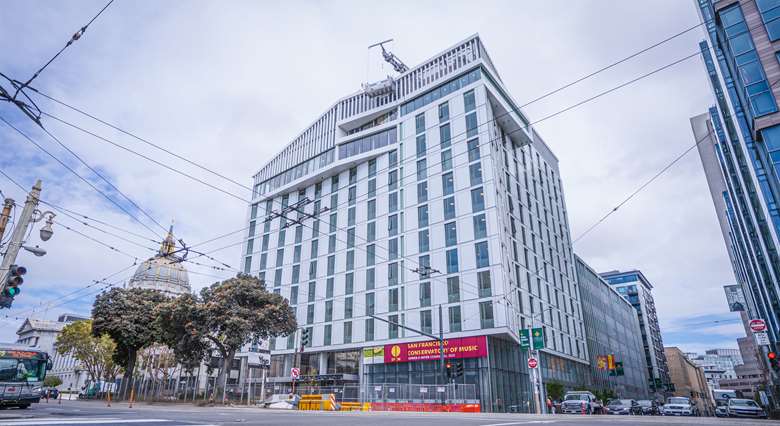 The San Francisco Conservatory of Music (SFCM) has announced an alliance with the artist management company Opus 3 that will create a new 'a new operating model committed to artistic excellence from the training of young musicians to the premier representation of professional artists around the world'. Never before has a non-profit, education establishment bought a for-profit management company.
The announcement is made at the same time as the opening of the SFCM's $200 million Bowes Center, a state-of-the art residence, training and performance facility for students and professional artists in San Francisco's Civic Center district.
Both SFCM and Opus 3 will continue as autonomous organisations under the Chairmanship of the SFCM's President, David H Stull, with David V Foster continuing as President and CEO of Opus 3 Artists, which has offices in New York and Berlin, and which represents some of the biggest names in the performing arts such as Yo-Yo Ma, Marin Alsop, Patti LuPone, Patrick Stewart, Daniel Barenboim, Alvin Ailey American Dance Theater, Joffrey Ballet and the New York City Ballet among many others.
Explaining the strategy, David Stull said 'SFCM and Opus 3 are dedicated to supporting the finest artists of our time and cultivating the emerging talent of tomorrow. This ambitious model will support a mutual amplification of mission and provide a platform for limitless artistic collaboration and project development. By coming together, our two institutions will also create new pathways for diverse artists and leaders to enter the profession. I am deeply grateful to our anonymous angel investor who made this possible.'
The ethos of the alliance – that creativity and excellence can only prosper in a culture of equity and inclusion – will inform a number of initiatives (which will be announced in detail later), but which will include:
- Commissions, recordings, and innovative projects (Opus 3 artists will have opportunities to advance their own work through commissions from composers, undertake new recording projects, and test new ideas in collaboration with colleagues. The alliance will allow Opus 3 artists to visit San Francisco, stay in the Bowes Center, and experiment with new ideas).
- SFCM/Opus 3 Artist Apprentice Program (Opus 3 Artists and SFCM will develop a global programme to identify the leading artists of tomorrow).
- Arts Leaders Professional Degree Program (Students interested in careers in arts management will have internship opportunities with Opus 3 Artists and work within a Professional Degree programme at SFCM).
- Enhanced global engagement (through the alliance, SFCM and Opus 3 will launch new ideas and models for supporting arts education, publish and distribute scientific evidence that informs the necessity of music for child development, and more).
The Ute and William K Bowes Jr Center for Performing Arts (SFCM's new Ute and William K Bowes Jr Center for Performing Arts, a 12-story residence and education centre within steps of San Francisco's leading performing arts organisations, provides affordable, high quality housing for over 400 students and seven residential suites for visiting professional artists and guest faculty). 
Opus 3's David Foster added: 'The alliance is a triumph of new thinking and possibility for the future at a critical time in the performing arts. Thoughtful and imaginative collaboration is the currency of success for our common future. Opus 3's artist managers and staff enthusiastically embrace this opportunity for ourselves and our clients, and we all share the aspiration to keep music vibrant and to support participation for all in every community.'