Abbey Road engineer Christopher Parker has died at the age of 95
Tuesday, April 20, 2021
Christopher Parker worked on many of the finest classical recordings made during a golden era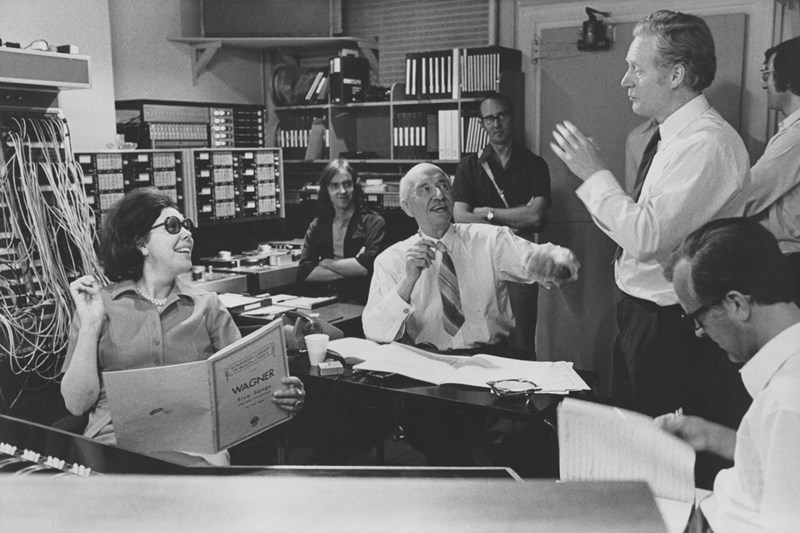 'They got something magical': Christopher Parker (standing, talking to Sir Adrian Boult) and Dame Janet Baker were both proud of the recording of Wagner's Wesendonck Lieder

Christopher Parker was an acclaimed recording engineer whose legacy lies in many of the most iconic classical recordings of the 20th century, and in his inspiration to the engineers who followed. Parker sadly died at the age of 95 on April 15, but as a tribute we are republishing an interview that Editor Martin Cullingford undertook with Parker in 2011 as part of a celebration of the 80th anniversary of Abbey Road, one which captures his personal humility, but also - through the words of others - his remarkable contribution to classical recording. Then below that, recording engineer Tony Faulkner pays tribute.
A young engineer called Christopher Parker is operating the tape machine for a recording of English songs by the German soprano Elisabeth Schwarzkopf with Gerald Moore at the piano. The producer is Walter Legge, who was to oversee many of Abbey Road's classic productions, and it was the first time Parker had met him. "During the rehearsal I was in the control room, standing near the loudspeaker," recalls Parker, "and I said to Legge, 'Do you know, I can't understand a word she's singing.' She had a very strong German accent. Legge drew sharply on his cigarette. This is what he did when he was angry. I didn't realise that Legge was married to Elisabeth Schwarzkopf – to me she was just a German singer trying to sing English."
Despite that inauspicious start, Parker was to become one of Abbey Road's most respected sound engineers. So much so that another Abbey Road remastering engineer, Ian Jones, says of him, "Christopher Parker is one of my heroes, and one of our heroes in the remastering department because of the quality of his recordings. The balance of the instruments is always where it should be and remains so for the whole recording. The sound will always be consistent, as realistic as it could be for the era. And the choice of his microphones was perfect. If it's a Chris Parker recording, generally you could put the tape on and you might not need to do much to it."
Parker had joined Abbey Road as one era was giving way to the next – wax to tape, which made editing possible for the first time. The tape they used had been developed by the German air force during the war, and, recalls Parker, "was a coated tape of oxide, covered in rust. It was full of overlap joins, which if you recorded over them gave a hiccup. So these all had to be cut out: this was one of my first jobs. At the end of the day your fingers were absolutely covered in red dust, it got over your clothes – it was a horrible job."
A few years later another development was to have a profound impact on music: stereo recording. Developed in the 1930s by EMI engineer Alan Blumlein (killed during the war), the 1950s saw stereo begin to appear in the studio. Most sessions were still mono but, as Parker recalls, "I was allowed to tag along and see what I could get out of it. I was given the gear and let loose. Legge was doing the mono balance, everything was done for the mono; I had no say whatsoever as to where things were placed or where people stood. I just had to take what I could out of it, and it's extraordinary that some of it is quite good. I was a bit of an intrusion for the mono engineer – he didn't want anyone fiddling around, putting extra mics in." Although it was Decca which actually released the first stereo records, Parker's experiments at Legge's mono sessions for Karajan's Falstaff and Rosenkavalier (both at Kingsway Hall), and subsequently released, show just how successful those first steps were.
Another of Parker's early sessions, this time in the smaller Studio Three, was of Alfred Cortot playing Schumann's Carnaval. "He was rather old and very short-sighted – he had these great bottle tops – and he couldn't see the extremes of the keyboard. He played Carnaval through once. And that was it. And it was absolutely full of wrong notes, but it's the most fantastic piece of Schumann-playing you're ever likely to hear – it's my favourite. They couldn't issue it, it's too inaccurate. But I made a copy. It's probably my most valuable recording."
When I ask Parker which recordings he is most proud of, he suggests Janet Baker's performance, with Sir Adrian Boult conducting, of Wagner's Wesendonck Lieder. "I think I got a nice sound on her voice there," he says. A couple of weeks later, when I ask the same question of Dame Janet Baker, she chooses exactly the same. "I wasn't a Wagner singer but I agreed to do it because I love the pieces, and thought that this was not going to stress me because I didn't have to project out into the large building for an audience. Then, in the middle of these recordings – maybe the music got to me, I don't know, but somehow the quality of those sessions was indescribable to me. And even now when I listen, I can hear something on the discs of that cycle which reminds me of a feeling I had at the time. It's an indescribable feeling, somehow, when things go right. Maybe it was the temperature in the hall, maybe it was the weather, I don't know what it was, but it was an occasion when I thought 'This is really superb', and it sounded so in the box as well when we listened to the tapes. They got something magical."
Tony Faulkner, an acclaimed sound engineer of today, remembers a professional inspiration and a friend:
The passing of Chris Parker was sad news for all who knew him, and personally for me. I never worked directly alongside Chris, but we met several times at Abbey Road Studios and later socially at both our homes. He and his musician wife Eva (who sadly died in 2010) were marvellous company. Chris's dedication to capturing natural honest recordings of real performances with the minimum of technical interventions had always inspired me. I admired his Kingsway Hall early stereo recordings: ASD 251 of 1957 Scheherazade / RPO / Beecham was the first I borrowed from Hammersmith Public Library when I was a schoolboy and avid student of recording techniques. It made a huge impression.
Chris was always so encouraging. It began with our first meeting in 1981 or 1982 in the main corridor of Abbey Road Studios. Out of the blue he stepped forward and in front of other EMI colleagues shook my hand saying he has just listened to one of my recordings to be released on an EMI label, that he was impressed and that he could tell how it had been recorded using a simple Blumlein stereo microphone technique close to his heart. No hint of putting down a young whippersnapper – quite the opposite. Throughout his career Chris was someone who stuck to his guns about honesty and integrity in sound, in service to the concept of performance.
Chris is survived by his three children, Ruth, Nicholas and Deborah, his partner of the last eight years Janet Matthews, nine grandchildren and nine great-grandchildren, the youngest of whom, Michele, was born at five minutes to midnight on April 15th, the very day of Chris's own death. A great man, whose legacy has enriched, enriches and will continue to enrich so many lives.