Bernard Haitink celebrated on BBC Two
Friday, September 25, 2020
A moving and illuminating insight into one of the most humane and selfless conductors of our time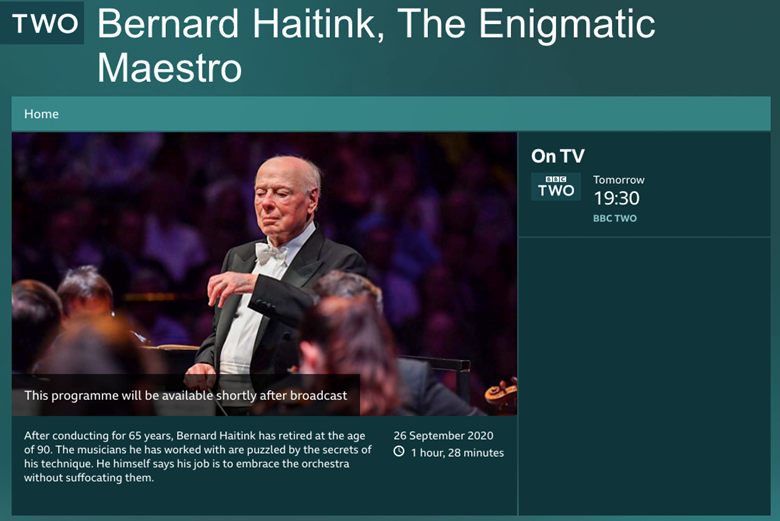 For admirers of one of the greatest conductors of our time, or indeed for those who were entranced by previous documentaries by John Bridcut, BBC Two will be showing 'Bernard Haitink, The Enigmatic Maestro' at 7.30pm on Saturday, September 26 (and thereafter in the iPlayer).
Haitink, who retired from the podium last year at the age of 90, enjoyed a long career that saw him at the head of many of the world's great musical institutions and ensembles: the Concertgebouw Orchestra of Amsterdam, the London Philharmonic, Glyndebourne, the Royal Opera, the Staatskapelle Dresden and the Chicago Symphony among others, and he also appeared regularly with the Berlin Philharmonic, London Symphony Orchestra, Philharmonia, Chamber Orchestra of Europe, Boston SO and Bavarian RSO.
John Bridcut features interviews with Haitink himself (talking about his youth in occupied Amsterdam, memories of his family life and his feelings about how his style on the podium has changed through the years) and contributions from family and colleagues (Sir Thomas Allen, Sarah Connolly, wife Patricia, and Nicholas Payne, among many others who've worked with him during his 65-year career).
John Bridcut's new documentary follows 'Janet Baker In Her Own Words', in which the great mezzo talked openly about her voice, her career and her life today, and which won plaudits from critics and audience alike. Before that, he produced 'Jonas Kaufmann, Tenor for the Ages', a unique and closely-observed account of one of the world's greatest tenors at the peak of his career, on and off duty. 
Bernard Haitink was given a Lifetime Achievement Award by Gramophone in 2015.