Conductor Bernard Haitink has died, aged 92
Friday, October 22, 2021
We remember his immense contribution to musical life
Bernard Haitink, one of the preeminent conductors of our time, has died aged 92. The Chief Conductor of the Royal Concertgebouw Orchestra for 27 years, a former Music Director of The Royal Opera, London and of Glyndebourne Festival Opera, a Principal Conductor of the London Philharmonic Orchestra and the Chicago Symphony Orchestra, and conductor of more than 450 recordings, his legacy is immense. He was the recipient of Gramophone's Lifetime Achievement Award in 2015.
Haitink was born on March 4, 1929 in Amsterdam, in which city he was to study violin and conducting at the Conservatory. He made his conducting debut with the Netherlands Radio Philharmonic in 1954 and the following year, stepping in for an indisposed Carlo Maria Giulini, first conducted the Concertgebouw Orchestra. In 1959, following the death of Eduard van Beinum, he was named First Conductor of the orchestra: he was 30. Two years later he shared the title of Principal Conductor with Eugen Jochum and then, in 1963, became the Orchestra's sole Musical Director. For the next 25 years – until stepping down in 1988 – he would develop one of those celebrated conductor-orchestra relationships that was, thankfully, enshrined on disc, largely by Philips. At the heart of a large and wide-ranging repertoire sat the great central works of the Austro-German literature. 
Symphonies by Beethoven, Brahms, Schumann and Tchaikovsky followed, and Haitink also proved a superb concerto partner. He conducted the Beethoven piano concertos for Claudio Arrau, Murray Perahia (taking a Gramophone Concerto Award in 1986 for Nos 3 and 4) and András Schiff (with the Staatskapelle Dresden). When Haitink embraced French repertoire the results were ravishing and a recording that included Debussy's Jeux and Nocturnes brought him two Gramophone Awards – Orchestral and Engineering – in 1980. As Principal Conductor of the London Philharmonic from 1967 to '79, he gave us Shostakovich symphonies and also proved himself a fine advocate of British composers such as Elgar, Walton and Vaughan Williams.
The late 1970s saw his first major engagement with opera: first at Glyndebourne (1978-88) and then, after Amsterdam, at the ROH (1987-2002) where his repertoire ranged from Mozart to Wagner. His 1983 Don Giovanni, with Thomas Allen in the title-role and based on performances at Glyndebourne, took the 1985 Gramophone Opera Award. Also for EMI, he recorded Wagner and Strauss. 
A further period saw him taking on two major positions: as Chief Conductor of the Staatskapelle Dresden (2002-4) and Principal Conductor of the Chicago Symphony (2006-10). Since then he went on to develop close relationships with the London Symphony Orchestra and the Chamber Orchestra of Europe. He received honorary membership of the Vienna Philharmonic Orchestra – an ensemble he had first conducted in 1972 – in 2019, at which time he announced his retirement after 65 years at the podium. The following year he was the subject of a BBC profile by John Bridcut, Bernard Haitink: The Enigmatic Maestro. He died peacefully at home on October 21, surrounded by his wife and family. ​  
In tribute to this great musician, we republish below an article David Gutman wrote in Gramophone in 2019 – the year of Haitink's 90th birthday – capturing something of both his art and personality, and below that republish a tribute written by András Schiff on the occasion of us honouring Haitink with Gramophone's Lifetime Achievement Award in 2015.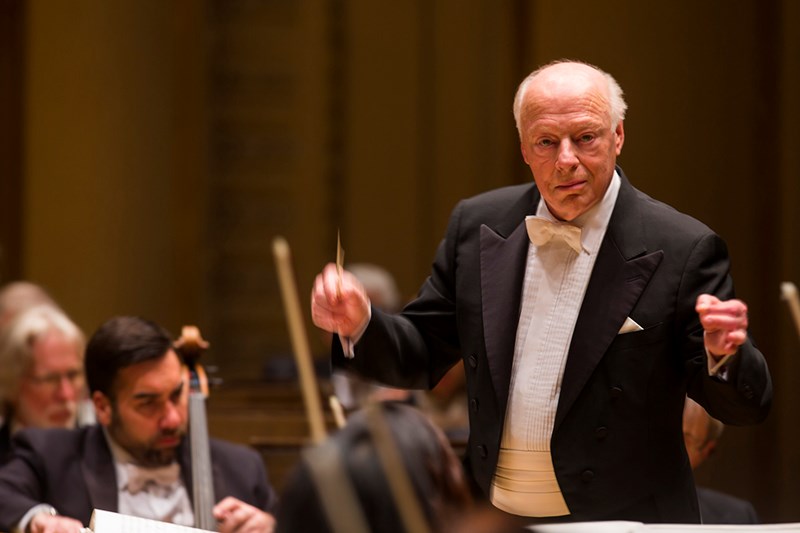 Bernard Haitink, who has died aged 92 (photo: Todd Rosenberg)
Bernard Haitink: David Gutman paid tribute to the modest maestro and his work in 2019, the conductor's 90th year
Bernard Haitink is much given to self-deprecation. Persuaded to fill a four-year gap between showier music directors at the Chicago Symphony Orchestra, he observed that 'every conductor, including myself, has a sell-by date', and settled for the unassuming tag of 'principal conductor': 'I never enjoyed power.'
Might this diffident doyen of his profession risk being taken for granted? Not so in Britain, where he forged durable relationships to complement his long stint at the Concertgebouw Orchestra and was made honorary KBE in 1977 and Companion of Honour in 2002. Formal recognition has come also from the country of his birth – not that he thinks of himself nowadays as significantly Dutch: there have been lacunae in his Amsterdam engagement diary.
For players, if not administrators, he is always, everywhere, 'one of us'. 'It's very important that the musicians trust you,' he says, 'that they know, when the hour comes, you will stand [up] for them.' Today, the LSO is his 'unofficial' London base while he maintains musical connections in Berlin, Vienna, Chicago, Munich and Lucerne. Not bad for a reluctant jet-setter.
Haitink (born in Amsterdam, March 4, 1929) began as a rank-and-file violinist and has suggested that his subsequent career owed much to the elimination of bigger talents in the Holocaust. If his verbal reticence in rehearsal stems partly from shyness, he knows too that players generally prefer leadership expressed through unambiguous gesture. Haitink's performances convey a strength and conviction born of collaboration. Not one to focus on the replication of interpretative quirks inscribed on a yellowing score, he has spoken of the buzz he gets from perusing a pristine copy of a familiar work. Even a standard miniature score can feel 'totally fresh'. Jonathan Del Mar's Bärenreiter editions encouraged the friskier approach and reappraised tempo relationships of his Beethoven symphonies for LSO Live. Is this respect – or literalism? There's no mistaking the lasting impact of the repertoire choices made by Willem Mengelberg, pre-eminent Dutch maestro of Haitink's boyhood, yet no trace of his interpretative speed bumps.
Haitink's mysterious ability to make a rendition sound inexorably 'right' while allowing space for individual creativity has made him a sought-after accompanist. He appeared in this role on his first internationally distributed LP, directing the Concertgebouw Orchestra for Arthur Grumiaux's Mendelssohn and Tchaikovsky violin concertos (Philips, 3/61). In late career, Haitink is chiefly associated with a smaller, not exclusively Austro-German, clutch of orchestral masterpieces. Physical frailty, apparent in occasionally hazardous descents from the podium, has not been perceptible in his music-making: the stick technique remains assured and economical, the line unblinkingly direct. An approach once criticised as risk-averse has come to exemplify old-school integrity.
Although Haitink achieves surprising transparency in Debussy (possibly reflecting The Netherlands' geographical position between French and German musical worlds), surveys of Bruckner and Mahler (Philips, 9/73 and 9/72) have been career-defining. The classical understatement which once persuaded doubters has more recently darkened into something less 'central'. In Mahler's Third, monumental rather than histrionic, neither plush nor shrill, the finale still elicits tears, including Haitink's own (BR-Klassik, 8/17). His traditional three-movement Bruckner Ninth is now uncompromisingly bleak, no transition falsely emotive (LSO Live, 4/14). 'Not so holy,' was his advice to one over-reverent student maestro embarking on the Seventh.
Haitink's Shostakovich has comparable sobriety, unaffected by extramusical static, devoid of spin. It was during his association with the LPO that he began recording the symphonies for Decca. There followed a swathe of British repertoire for EMI. Typically, even when confessing not to have understood the Ninth, Haitink saw his slow-building Vaughan Williams symphony cycle through to a dignified end (EMI, 5/01). The early Concertgebouw years reveal wider sympathies too. Recently reissued (on Decca Eloquence) is Hendrik Andriessen's Symphonic Etude (1952), a rarity from an early 'local' release, recorded in 1960.
In mid-career, Haitink focused on opera. His bond with Glyndebourne saw him conduct the opening of the new house in May 1994, Gerald Finley heading the cast of Mozart's Le nozze di Figaro (NVC Arts, 1/00). Crises at Covent Garden were not primarily musical. Extending his repertoire with Tippett's A Midsummer Marriage and Janáček's Jenůfa (Erato, 3/03), Haitink won plaudits for his Wagner despite antipathy to Richard Jones's 'cartoonish' productions. A recorded Ring was made (prematurely?) with Bavarian Radio forces (EMI, 12/89, 12/88, 11/91, 9/92). In London he remained doggedly supportive of the orchestral musicians of the Royal Opera in the face of press criticism and serious ill health.
Haitink once decried the endless duplication of standard repertoire on disc. That he should be ending his career contributing to the glut may seem paradoxical, but his best remakes retain enviable freshness and humanity to balance all that iconic solidity and realism.
Defining moments from a remarkable career
1954 – Conducting debut aged 25
Conducts his first concert, on July 19 with Netherlands Radio PO, which he initially joined as violinist. His conducting there is nurtured by Ferdinand Leitner. Becomes Chief Conductor in 1957.
1956 – Concertgebouw Orchestra debut
A late stand-in for Carlo Maria Giulini on November 7. Becomes the youngest ever Principal Conductor of the orchestra in 1961, initially sharing the position with Eugen Jochum, latterly in sole charge till 1988.
1967 – Regular associations with English institutions begin
Becomes Principal Conductor and Artistic Adviser (artistic director from 1970) of the London Philharmonic, till 1979. From 1977 to 1987: Music Director at Glyndebourne, where he made his UK opera debut in 1972.
1987 – Last long-term appointment begins: Covent Garden
Music Director of the Royal Opera until 2002. It's a period of existential crisis and physical transformation for the cash-strapped house. 
2015 – Gramophone Lifetime Achievement Award
Acclaim continues in 2017 as he is appointed Commander of the Order of the Netherlands Lion, the country's oldest and most exclusive public honour.
The above article was published in Gramophone, March 2019
Sir András Schiff's tribute to Bernard Haitink - a great musician and a valued colleague - on the occasion of him receiving Gramophone's Lifetime Achievement Award in 2015
Bernard is unique because, of all the conductors I know, he has the least ego. It's like a breath of fresh air! The way he loves music, and respects and reveres the great composers, and how he sees his role, is exactly as it should be: as a medium between the composer and the players and the listeners. He's not driven by the huge overblown egos of certain other conductors!
He's very easy and straightforward to work with. As with the instrumentalists I play chamber music with, the less you need to talk, I think, the better. And with Bernard you almost never have to talk. We know each other so well that there's not this usual brief meeting before a rehearsal where one goes through the tempi – we just know that we will agree on it, so we just go in immediately to rehearse with the orchestra. Bernard is, I think, modest to a fault; he has such a fantastic conducting technique that he believes firmly that it's totally unnecessary to say anything to the orchestra, so if something goes wrong he thinks it's probably his fault…but it isn't! He's so modest and that's why all orchestras respect him.
I find it is especially harmonious when we work with the Chamber Orchestra of Europe – I think that's what he enjoys the most. Even though the orchestra is no longer a young one the spirit is very young and I find that he gets the best results with them. He is very much a role model and I've always watched him and consulted him. If I had to ask for a conducting teacher I'd choose Bernard but, like most great conductors, he would claim that conducting is something that can't be taught. And yet it can be: I've seen Bernard in masterclasses and he's a magnificent teacher.
He never stops – he has, for example, really rethought the Beethoven symphonies (drastically I think if you compare the latest version with the earliest). There are big changes and like many of us, he did learn something from period-performance style. And Bernard is still adding new pieces to his repertoire. I'm still amazed that he conducts certain contemporary works for the first time. When he started with the Concertgebouw, he was – let's not forget – a very young and, as he told me, very inexperienced conductor. Today we see a lot of orchestras appointing very young music directors but Bernard was very young when he started and this is his Indian Summer. It is wonderful that there is this freshness, but also a sense of calmness and tranquillity, about his music-making.
You can also read the tributes given to Haitink on receiving the Award from many other musicians including Emanuel Ax, Murray Perahia, Dame Felicity Lott, plus orchestras and labels, here: Tributes to Bernard Haitink on his Lifetime Achievement Award.