Edita Gruberová | Obituary
David Patrick Stearns
Thursday, October 21, 2021
'No modern lyric-coloratura soprano had so much high-quality vocal mileage as Edita Gruberová'. Born December 23, 1946; Died October 18, 2021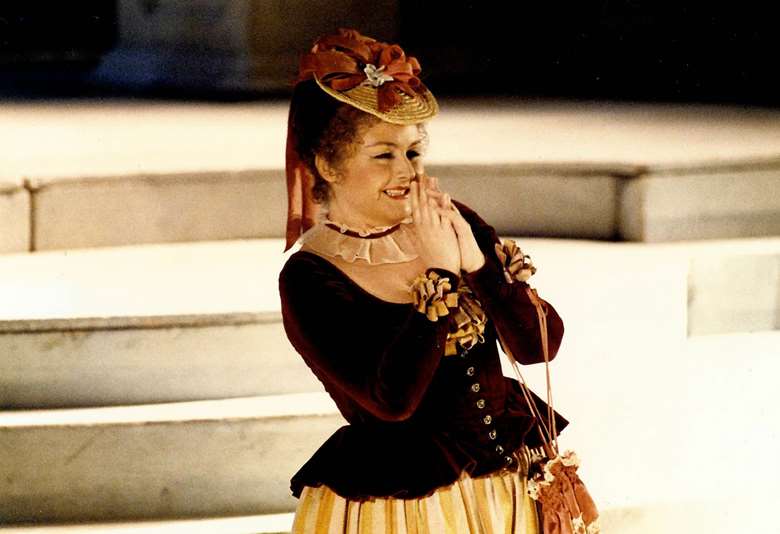 No modern lyric-coloratura soprano had so much high-quality vocal mileage as Edita Gruberová. Her death in Zurich at the age of 74 was only two-and-a-half years after her spring 2019 farewell to the opera stage with a Munich performance of Donizetti's Roberto Devereux which reportedly received a 10-minute ovation.
Though the challenging role of Elisabetta has often thought to shorten vocal careers, Gruberová had sung the part almost every season at the Bavarian State Opera since 2004 – evidence to how her voice defied many, many odds. In fact, that performance wasn't meant to be her absolute farewell. 'La Gruby', as she was affectionately nicknamed, was replacing a cancelled Sondra Radvanovsky, and had other engagements scheduled but then cancelled by the pandemic. Preserved on an amateur video, the March 2019 Devereux performance reveals a Gruberová hallmark that's often overlooked amid the high notes: she brought complete theatrical veracity to recitatives, creating true theatre in an operatic genre sometimes dismissed as a flimsy star vehicle.


'Gruberová was in many ways the polar opposite of Callas, achieving dramatic credibility through lighter vocal means'

Definitive Gruberová statistics are hard to come by, but a rough count looks something like this: since her 1968 stage debut in her native Bratislava singing Rosina in The Barber of Seville, her roles (including comprimario roles such as a Flower Maiden in Parsifal) number around 60, with a core repertoire that stretched throughout much of her career. Her journey with Lucia di Lammermoor started in Graz in 1975 and ended in Budapest in 2019. She debuted her most famous role, Zerbinetta in Ariadne auf Naxos, in 1973 and sang 200 performances until 2009, starting and ending in Vienna. Conductor Karl Böhm, who premiered a number of Strauss operas, remarked how much he wished the composer had lived to hear her. The voice had pinpoint accuracy, a clean, clear tone and a sense of the dramatic meaning behind seemingly decorative trills and roulades.
Her CD and DVD count – spread over Teldec, EMI, Orfeo and her own label Nightingale Classics among others – came to about 180 titles including four Lucias and six Zerbinettas, as well as Lieder recitals, aria collections and concert works such as Haydn's The Creation. She collaborated with Herbert von Karajan, Riccardo Muti, Nikolaus Harnoncourt and others, though in her final decades, she settled into a regular circle that included the Bavarian State Opera, Vienna State Opera and Zurich Opera – seldom visiting London and New York – with a handful of bel canto roles conducted by Friedrich Haider, co-founder of the Nightingale Classics label and her second husband. Though the two split in 2007, he conducted her farewell Roberto Devereux.
Upon emerging from the Bratislava Conservatory and Academy of Performing Arts, during which her singing engagements ranged from folk ensembles to Eliza Doolittle in My Fair Lady, Gruberová made her Vienna State Opera debut as the Queen of the Night in The Magic Flute. That role was her calling card in many of the opera capitals of the world, including Glyndebourne in 1973 and the Metropolitan Opera in 1977. It's also one of the few major roles that she retired, giving her last performance in Vienna in 1984. 'You lose patience, you lose the sense of focus to sit in your dressing room, to go on stage and have to sing high Fs without any preparation,' she told Hugh Canning in Gramophone (2/93). Not that she had anything against high Fs in and of themselves: 'The higher the notes go, the better I feel,' she told Canning.
Her opinions were strong and considered. She believed a lighter voice was appropriate for La traviata, pointing to the lighter orchestral scoring around which Verdi surrounded the role. She wasn't on board with Maria Callas, whose darker-voiced Violetta, in Gruberová's opinion, distorted the role. Gruberová was in many ways the polar opposite of Callas, achieving dramatic credibility through lighter vocal means, though Gramophone's John Steane proclaimed her portrayal of Bellini's Norma, in her recording on Nightingale Classics, to be the equal of Callas with the added 'extraordinary radiance of her voice' (9/05). To that, Patrick O'Connor added (6/07) that she was "the greatest Norma of today" in the later Bavarian State Opera DVD of Norma, recorded in 2006 and released by Deutsche Grammophon. "Her singing ... brings a lifetime's experience of singing bel canto opera and caresses Bellini's vocal lines with many subtle touches."
Her repertoire had its quirks. With her authority with Strauss and full-bodied tone, why were there only a handful of outings as Sophie in Der Rosenkavalier, Hermione in Die Ägyptische Helena and Aminta in Die schweigsame Frau? Or, more in the bel canto realm, only a few Norinas in Don Pasquale? "My voice determines my repertoire," she told Canning. "Conductors have asked me for the Forza, the Empress in Die Frau ohne Schatten ... I assure you famous conductors! I always say to them, ask my voice." Maybe she didn't find the secret of eternal vocal youth. But she certainly outlasted anyone else.