Editor's Choice: May 2023 | The best new classical recordings
Friday, April 14, 2023
Compelling Gesualdo Madrigals from Les Arts Florissants and Paul Agnew, Klaus Mäkelä's Rite of Spring in Paris and Michael Spyres's 'Contra-Tenor' are among the best new classical releases this month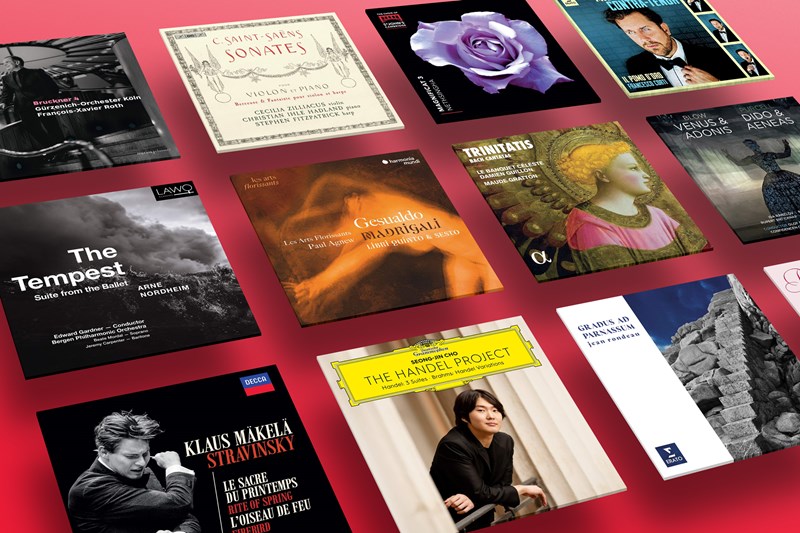 In every issue of Gramophone, Editor Martin Cullingford chooses 12 albums (10 new releases, plus one DVD/blu-ray and one archive recommendation) as his Editor's Choice. Below, you will find the albums selected as Editor's Choice in the May 2023 issue, beginning with the Recording of the Month. 
We've included links to the album reviews in Gramophone's Reviews Database, a digital archive of all of our reviews from 1983 to today. To find out more about subscribing to Gramophone and the Reviews Database, please visit: magsubscriptions.com
Recording of the month

Gesualdo
 

Madrigals,

 

Books 5 & 6

 

Les Arts Florissants / Paul Agnew 

Harmonia Mundi 

The gripping acoustic intimacy that defined this series from its Award‑winning start is again here in another compelling Gesualdo recording from Les Arts Florissansts.
---

Bruckner Symphony No 4, 'Romantic'
Cologne Gürzenich Orchestra / François‑Xavier Roth 
Myrios 
'The best-realised, and best-recorded, account of the original version of the Fourth we have yet had', writes a hugely impressed Richard Osborne. 
---

Nordheim The Tempest – Suite from the Ballet
Bergen Philharmonic Orchestra / Edward Gardner 
LAWO 
The suite from Arne Nordheim's ballet The Tempest is beautifully performed by Edward Gardner and his Bergen PO.
---

Stravinsky The Firebird. The Rite of Spring
Orchestre de Paris / Klaus Mäkelä 
Decca 
Named last issue as one of our artists shaping music-making for tomorrow, Klaus Mäkelä follows his superb Sibelius set with a riveting Stravinsky double-bill.
Klaus Mäkelä discusses this new recording on the Gramophone Podcast – listen here:
---

Saint‑Saëns Violin Sonatas, etc
Cecilia Zilliacus vn Christian Ihle Hadland pf Stephen Fitzpatrick hp
BIS 
Wonderfully vivid, alive and completely committed – but most importantly beautiful – Saint-Saëns performances from violinist Cecilia Zilliacus and colleagues. 
---

'The Handel Project'
Seong-Jin Cho pf
DG 
Seong-Jin Cho's immersion in the sound world of the Baroque in preparation for this project leads him to Handel – and then Brahms – performances that feel as deeply thought-out as they do instinctive.
---

'Gradus ad Parnassum'
Jean Rondeau hpd
Erato 
A fascinating and wonderfully recorded harpsichord album from Jean Rondeau in which his complete conviction about his approach to this wide range of music brings enjoyment and admiration alike. 
---

JS Bach
 

'Trinitatis' – Cantatas

 

Damien Guillon counterten Le Banquet Céleste

Alpha 

Deeply engaging and moving performances of three Bach cantatas result in 'an exceptional and original release', as Jonathan Freeman‑Attwood puts it.
---

'Magnificat 3'
The Choir of St John's College, Cambridge / Andrew Nethsingha 
Signum 
This ongoing series has not only been a beautifully prepared and sung tribute to the Anglican canticle tradition, but also to Andrew Nethsingha's brilliant leadership of music st St John's.
---

'Contra-Tenor'
Michael Spyres ten Il Pomo d'Oro / Francesco Corti
Erato 
Michael Spyres's now famous range coupled with his superb sense of drama and glorious technique singles him out – once again – as one of the finest opera singers before us today. 
---
DVD/blu-ray

Blow Venus and Adonis
 

Purcell Dido and Aeneas

 

Sols; Confidencen Opera / Olof Boman 

Opus Arte 

Not just a double bill but a shared presentation of these two works, from the court theatre at Confidencen, Sweden. 
---
Reissue/archive

'The Complete RCA Victor Recordings'
Jesús Maria Sanromá pf Primrose Quartet
Biddulph 
Excellently transferred recordings of the complete recordings for RCA Victor of the quartet named after its pre-eminent viola player, William Primose.
Never miss an issue of the world's leading classical music magazine – subscribe to Gramophone today