Gramophone Charity Gala
Saturday, May 9, 2020
Enjoy the charity gala on Facebook and YouTube on Sunday, May 10, 7.15pm (BST), 8.15pm (CET), 2.15pm (EST), 11.15am (PCT) and support Help Musicians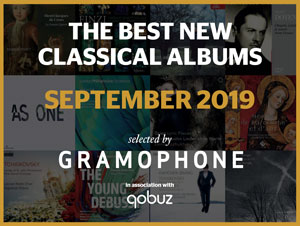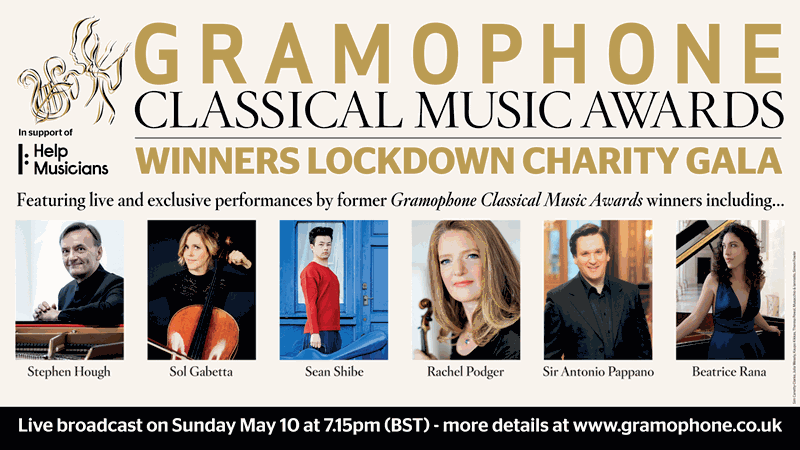 To support musicians whose work has dried up due to the Covid-19 crisis, and who are finding themselves in severe financial difficulty, Gramophone has organised an online gala featuring former Gramophone Classical Music Awards winners. Each artist will introduce and perform a short programme from their own home and viewers will be encouraged to donate to Help Musicians.
James Jolly, Editor in Chief of Gramophone, explains: 'Music is one of the most spiritually nourishing things humans can share, and when the musical world falls silent, we feel its loss. To ensure that the music will play again when this crisis eases, we are encouraging music-lovers to dig deep and help the musicians who enrich our lives day after day. We, at Gramophone, are enormously grateful to the wonderful generosity of these Award-winning artists who have given their time and talent to support our charity gala.'
James Ainscough, Chief Executive of Help Musicians, says: 'Over the past six weeks Help Musicians has responded to the coronavirus crisis by making payments totalling £8.35m to nearly 16,700 professional musicians needing immediate financial help. This is just the beginning. There are a large number of musicians who will not be protected by government safety nets and will need our financial assistance over many months. There is also growing demand for the support we offer on health & mental wellbeing, building business skills and creative development. Music-lovers, musicians and the music industry have already responded with generosity, but we still need to raise millions more in order to meet all needs fully. That is why we are so grateful to Gramophone and all the artists involved for supporting our vital work. Thank you – we cannot do it without you.'
Eight pianists, a percussionist, three violinists, two flautists, a string quartet, three singers, a vocal ensemble and a guitarist guarantee that the programme will be varied and, as the artists have all chosen their own pieces, from the heart. In between the performances, some guest musicians – also former Award winners – will talk about music and encourage viewers to donate to this tremendously deserving cause.
Where to watch
The Gramophone Award Winners Lockdown Charity Gala expired on May 31, 2020.

Artists
The gala concert will feature exclusive performances from:
Jean-Efflam Bavouzet • Ian Bostridge & Oliver Bostridge • Bertrand Chamayou • Colin Currie • Lise Davidsen • Sabine Devieilhe & Raphaël Pichon • James Ehnes • I Fagiolini • Vilde Frang • Sol Gabetta • Delphine Galou & Ottavio Dantone • Sir James Galway & Lady Jeanne Galway • Boris Giltburg • Pavel Haas Quartet • Stephen Hough • Víkingur Ólafsson • Jakub Józef Orliński & Aleksander Dębicz • Sir Antonio Pappano • Rachel Podger • Beatrice Rana • Sean Shibe
Ian Bostridge, Bertrand Chamayou, Aleksander Dębicz, Sabine Devieilhe, Vilde Frang, 
Jakub Józef Orliński, Sir Antonio Pappano and Beatrice Rana 
appear
courtesy
of Erato/Warner Classics.
Víkingur Ólafsson
​appears courtesy of Deutsche Grammophon.
Lise Davidsen appears courtesy of Decca.
Sol Gabetta appears courtesy of Sony Classical.
Gramophone also wishes to thank Chandos, Channel Classics, Delphian Hyperion, Naïve, Naxos, Onyx & Supraphon.


How to donate
100% of your donations will go to Help Musicians.
You can donate online at https://www.helpmusicians.org.uk/gramophone
Or you can text to donate (UK networks only):
To donate £5, text MUSIC1 to 70970
To donate £10, text MUSIC1 to 70191
* Fundraising, payments and donations will be processed and administered by the National Funding Scheme (Charity No: 1149800), operating as DONATE. Texts will be charged at your standard network rate. For Terms & Conditions, see www.easydonate.org
(*UK networks only. Please note that those with a non-UK SIM cannot use UK premium text services)


Apple Music playlist
Listen to our artists in some of their recent and Award-winning recordings on our playlist on Apple Music.